FA backs safe-standing proposals in Premier League and Championship
Last updated on .From the section Football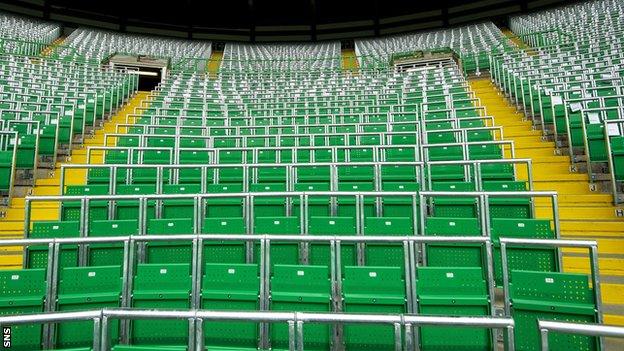 The Football Association has lent its support to safe standing at football grounds in England if there is "clear evidence that satisfies authorities".
The Premier League and EFL have also said they would support clubs' choice to install safe standing in the top two tiers of English football.
A government review is ongoing with a conclusion expected by the end of 2018.
Standing in English football's top two divisions was outlawed by the Football Spectators' Act in 1989.
It came following recommendations made in the Taylor Report into the Hillsborough disaster, which claimed the lives of 96 Liverpool fans.
An FA spokesperson said: "The FA supported the announcement from Sports Minister Tracey Crouch in June to conduct an external analysis of evidence in relation to the all-seater policy".
The statement added that the FA "supports clubs and leagues in having the option to choose whether they wish to provide standing options for supporters should there be clear evidence that satisfies the authorities over safety and security".
Support from fans has been growing for safe standing in recent years, with Celtic already adopting rail seating at their Celtic Park stadium.
In a recent survey run by the EFL, 94% of the 33,000 respondents said fans should be allowed to choose whether they wanted to stand or sit at games.
And in a Premier League survey, 70% of fans who attended games agreed in principle that standing should be offered as a choice.
Sports Minister Tracey Crouch said her "mind was open" to safe standing during a parliamentary debate in June after apologising for saying only a "vocal minority" wanted standing areas.
'FA support hugely encouraging'
The Football Supporters' Federation (FSF), which has been campaigning for the introduction of safe standing to combat the problem of people standing up in seats and potentially causing injury, said the FA's support was "hugely encouraging".
But FSF's Peter Daykin said the FA's stance was "not surprising" as fans at Wembley often stood during games. "The FA understands the issues all too well," he added.
"The government said it wouldn't move until all the football authorities spoke with one voice, which is understandable, but now they are, all eyes are on the review.
"We are happy for the government to take its time with the review. We want a thorough understanding of all the arguments and it's too important an issue to rush."