Hampden or Murrayfield? 'Neither feel like football stadiums' - Kris Commons
Last updated on .From the section Scottish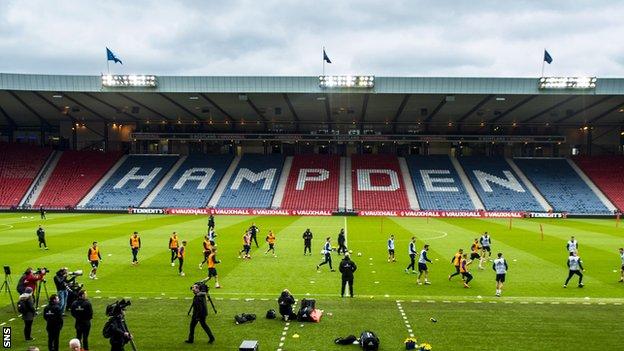 Neither Hampden Park or Murrayfield "feel like football stadiums" for atmosphere, says former Celtic and Scotland midfielder Kris Commons.
The Scottish FA meets on Wednesday to decide if Scotland will continue to play at the national stadium after 2020, or move to Scottish rugby's home.
But Commons, who won 12 caps from 2008 to 2013 and played at both grounds, believes neither is fit for purpose.
"You need to feel that atmosphere of a football match," he told BBC Scotland.
"You get it at Tynecastle in front of 16,000. You play in front of 60,000 [sic] at Hampden - you don't get it. There is no desire as a player to play there.
"For the last six years, the pitch has been awful, the atmosphere is no good. You need to bring it up into the 21st century, where the fans are close to the players.
"You want to be touching them, feeling involved, feeling the atmosphere."
Commons shares the view that, if the SFA decides to remain at Hampden, the governing body - if it brokers a deal to buy the stadium from current owners Queen's Park - would need to reconfigure the stadium to help generate a better atmosphere at Scotland games.
"When you are getting qualifiers for Scotland against these nations we are supposed to be beating - they will feel that," he told BBC Sportsound. "Our own players will feel that intensity.
"At no point did I feel that intensity as a player. The only time I have felt it was when I was doing commentary on the Scotland-England game when Leigh Griffiths scored that second goal.
"That is the only time as a player or spectator that I thought 'I feel like I am in a stadium now."
Murrayfield 'just didn't have a football feel to it'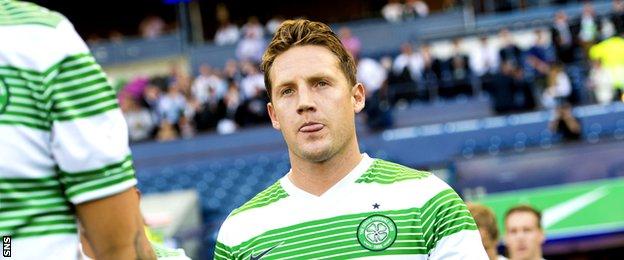 Commons, 34, who retired as a player after the 2016-17 season, was similarly unimpressed when playing for Celtic in Champions League qualifiers at Murrayfield in 2014 while Celtic Park was being used for the Commonwealth Games.
"It was the rugby feel to Murrayfield - huge dressing rooms, warm-up areas and rooms with gyms," he recalled.
"All these stats of these great rugby men doing incredible stuff. It just didn't have a football feel to it one bit."
The seven members of the Scottish FA board had final tours of both Hampden and Murrayfield on Tuesday and will meet on Wednesday in an attempt to reach a consensus on a decision.
A simple majority would be enough to determined where Scotland will play from 2020, although the board may decide it needs more time to reach a verdict.
Hampden Park, on Glasgow's south side, currently has a capacity of just under 52,000.
The stadium has been hosting Scotland's matches since 1906, as well as the majority of Scottish League Cup and Scottish Cup finals - and latterly semi-finals - since 1903.
John Hughes, who guided Falkirk to the 2009 Scottish Cup final at Hampden and Inverness Caledonian Thistle to their first major silverware in the competition in 2015, also advocates redeveloping the Glasgow venue over moving to his native Edinburgh.
"I don't fancy Murrayfield," he told Sportsound. "It is quite similar to Hampden in the sense you are still quite a distance away behind the goals.
"I think Hampden is the national stadium, but if they stay there, they need to refurbish it and bring it up to speed to get the fans closer; that would be fantastic."
Analysis - 'The numbers make sense for Murrayfield'
BBC Scotland chief football reporter Chris McLaughlin:
It is safe to say Hampden has the history, even if Murrayfield may have a better financial proposition.
If the numbers stack up, I think there would probably be a willingness and desire to stay at the home of Scottish football, if Hampden could be redeveloped the way people want it to be.
But, financially, the SFA has a decision to make. The numbers make sense for Murrayfield and Hampden has a way to go to bridge that gap.
If they do decide to stay at Hampden, the SFA still has to come to a deal with Queen's Park to buy the stadium.