Transfer deadline: Did Premier League suffer from earlier window closing?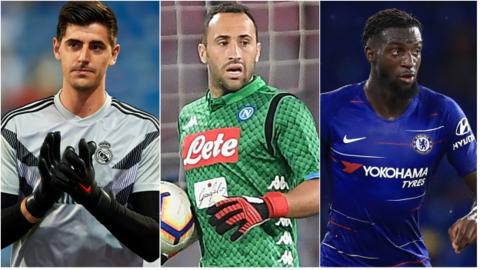 Nearly there. Just a few hours to go.
When the clock strikes 23:00 BST on Friday, all the transfer windows across Europe's major leagues will be closed and Premier League clubs can breathe a sigh of relief, knowing their big names can no longer be poached - until January anyway.
Up until this summer, the English transfer window closed at the end of August, in line with the rest of Europe.
But Premier League clubs and the EFL voted to bring the deadline forward this year to 9 August, to focus on preparing squads before the season started.
That has created a three-week window where English sides have been susceptible to losing their players to clubs on the continent, with no chance to sign a replacement.
So, has the earlier deadline had a detrimental effect on the Premier League? And what about the impact on players who miss out on a move?
The players left behind? - the agent's view
Football agent Robert Segal, head of UK football at James Grant Group
Initially, I thought the earlier deadline was a good thing because the season gets under way and everything can settle down.
That joy turned to horror when it became evident that the English teams would be at a disadvantage.
I think this window was probably, for activity and creativity, the worst - it sent us back to the beginning. The big deals get done but the smaller deals don't get done.
For a player missing a move before the window closes, there is one option and that's take a loan at a Championship club.
And with players not moving, you've got miserable clients, miserable football clubs, miserable agents. It's just a brick wall.
With the World Cup, clubs could have done with another couple of weeks. Take someone such as Danny Rose - who has been linked with a move away from Tottenham. He comes back late from the World Cup and it was too late to sell him and replace him. This was the wrong window to move things around.
When do the windows shut?
Spain & France - 23:00 BST Friday, 31 August
Germany - 17:00 BST Friday, 31 August
Italy - closed on Friday, 17 August
EFL loan deadline - 17:00 BST Friday, 31 August
'We'll pick up the pieces' - did European clubs fail to take advantage?
So far, fears that Real Madrid would prise Eden Hazard from Chelsea have been misguided and rumours that Paul Pogba wants to leave Manchester United have yet to bear fruit.
In short, the prospect of big-spending European clubs picking off the Premier League's best talent has not emerged.
But the overall number of players leaving England for the continent has not taken a hit, with 28 players making a permanent move to Europe this summer and only two of those occurring since 9 August.
That's six down on last year, but eight more than in 2016.
It is in the loan market where European clubs have increased their activity, taking 49 players on short-term deals from English teams - 15 more than last year and 29 more than 2016.
It has led to an increase in the number of young English players heading for the continent to gain experience, with seven at Bundesliga clubs alone this season.
BBC Sport's John Bennett
It's fair to say Bundesliga, La Liga and Ligue 1 clubs were looking forward to the opportunities an earlier English transfer deadline could bring.
"We'll be able to pick up the pieces," one official from a top German club told me back in July.
So did they take advantage? Possibly not. None of the top five most expensive transfers in each of the top-flight leagues in Germany, Spain and France were completed after the English window had closed.
One official at a leading French club even told me that the English transfer window closing early turned out to be a disadvantage, saying: "Before we have counted on panic buying at the last minute from English clubs to create opportunities for buying and selling. This transfer window has actually been a lot more predictable."
For the Bundesliga official though - talking to me again this week - the positives massively outweighed the negatives: "Maybe Germany didn't take advantage as much as was predicted but there were opportunities to pick up second, third or fourth options that Premier League clubs didn't sign in a more realistic price frame.
"And there are also more loan signings from Premier League clubs who were looking to reduce their squad sizes."
Fewer signings - but why?
There were 109 signings made by Premier League clubs this summer. That's the lowest number across the past five seasons and 48 fewer than in 2014.
But is the earlier deadline the reason for less activity? The number of summer signings by Premier League clubs has declined gradually each summer, dropping to 132 in 2016 and 124 in 2017.
It seems clubs have been streamlining their buying regardless of when the window closes.
There was an impact financially, with the £1.2bn spent the lowest for eight years. Figures released by Deloitte say summer spending dropped by £200m from last year's record of £1.4bn.
But in terms of average cost per signing it had barely any effect, with 2017 and 2018 both coming out at £11m a player.
When it comes to deadline day itself, there were plenty of signings - 26 in all. But the amount spent on deadline day was down by £100m from £210m in 2017.
BBC Sport's chief football writer Phil McNulty
This year's transfer deadline day - the first with the earlier cut-off date - was something of an anti-climax compared with the dramas of previous years.
So is transfer deadline day losing its lustre? Is the novelty wearing off?
There may be a much simpler reason, certainly where Premier League clubs are concerned.
It may just be that clubs have no wish to leave those big, headline-making swoops to the last moment any more, even with a World Cup that finished in mid-July delivering an added complication.
Spurs chairman Daniel Levy has won a reputation as a master of the late, late move but this time not only did he decline to move on deadline day - he did not sign a single player in the transfer window.
So maybe clubs are simply being more pragmatic and practical, doing business earlier to avoid being held to ransom or beaten by the clock.
Do Premier League clubs want to stick with the early deadline?
Last September, 14 of the 20 Premier League clubs voted to bring in the earlier deadline.
Some clubs believe it is a restriction of trade, but it seems there is not enough support to get the two-thirds majority required to reverse the decision.
BBC Sport's Simon Stone
Unless there is a significant shift in the final hours of Friday's deadline day, the Premier League as a collective can give themselves a pat on the back for their unilateral decision to shift their own deadline to before the domestic campaign began.
All managers felt that was the best idea.
The reservation was that Europe's major clubs would have a free run at any talent that did become available after the Premier League began or, worse, could lose players themselves without having the opportunity to sign a replacement.
We will never know whether Real Madrid would have gone for Eden Hazard if Chelsea could have bought someone else, or if Manchester United would have let Paul Pogba join Barcelona.
However, having taken a fairly brave leap of faith, the landing has been as smooth as it possibly could be.
And if, as has been suggested, Europe's other superpowers, specifically Spain, go for an earlier deadline too, the English game has reason to be very pleased with itself.