Hampden or Murrayfield? Which venue will the Scottish FA choose?
Last updated on .From the section Scottish219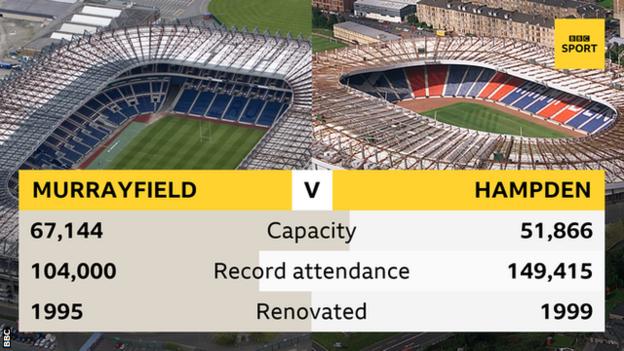 Hampden or Murrayfield? West or East? History or a new start?
The Scottish FA's board will meet on Wednesday to determine where Scotland will play their fixtures from 2020.
Proposals were submitted last month by Queen's Park - the amateur League Two club who own Hampden - and by Scottish Rugby, which wants to lure the matches from Glasgow to Edinburgh once the existing lease expires.
Scotland manager Alex McLeish, who won 77 caps for his country, has described it as a "business" decision and said he will "go with the flow if it's in the name of progress".
But how will the verdict be reached? What are the pros and cons of each venue? And what has the reaction been?
How will the decision be taken?
BBC Scotland's senior football reporter Chris McLaughlin
All seven members of the Scottish FA board met on Tuesday and had final tours of both Hampden and Murrayfield, having spent the past few days poring over thick dossiers on each bid.
They will sit down again on Wednesday morning and attempt to reach a consensus but, failing that, a simple majority would be sufficient to determine where Scotland will play from 2020.
However, a third option remains very much on the table: the board could decide they still need more time to reach a verdict.
Once an outcome is reached, the Scottish FA will first tell staff, stakeholders, the government, then make it public with a statement, likely followed by a media conference.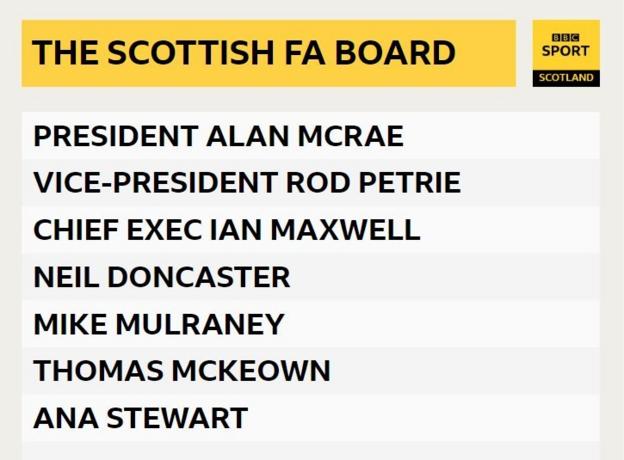 How have we reached this point?
The Scottish FA has an option to renew their lease on Hampden - the national team's home since 1906 - but they commissioned a feasibility study to assess all the options.
After rejecting a proposal in January from Celtic and Rangers to share hosting of internationals and domestic cup matches, the choice boiled down to remaining at Hampden beyond 2020 or moving to Murrayfield.
League Two club Queen's Park, the owners of the national stadium, agreed in principle in March to sell Hampden to the Scottish FA - a development thought to make it more likely the governing body would keep hosting games at the national stadium.
But various hurdles - including the cost of such a deal - do not make it a foregone conclusion.
Hampden - the pros and cons

The stadium in Glasgow's south side has been hosting Scotland's matches since 1906, as well as the majority of Scottish League Cup and Scottish Cup finals - and latterly semi-finals too - since 1903.
It is regarded by many, including a majority of former players and managers, as the "spiritual home" of Scottish football.
But that emotional attachment is partially offset by complaints from fans about poor infrastructure and transport links, and a distance between the stands and the action when seated behind the goals.
Not everyone agrees, though. Darryl Broadfoot, a former Scottish FA communications director, says "there is a mythology over Hampden's transport problems".
"There are actually three train stations in the vicinity," he says. "The problem is enough trains going there, which is a conversation, or at least a demand, that has to be placed on the rail provider."
Hampden's current capacity is just under 52,000, but it is rarely full for Scotland games and some domestic cup semi-finals.
Some have suggested reducing the capacity to about 35,000 and bringing the two stands behind the goals closer to the pitch.
If the Scottish FA opts to buy the stadium from Queen's Park, it would not only incur the reported £2m cost but also a potential redevelopment bill, which could have knock-on effects on the funding member clubs receive.
Stewart McDonald, the SNP MP for Glasgow South, says: "There is absolutely no reason, with the right commitment from all of those interested, why we can't modernise the Hampden experience and keep Scottish football in its rightful home."
Murrayfield - the pros and cons

The Scottish Rugby Union (SRU), which owns Murrayfield, says it is the "largest and best stadium in Scotland".
It is certainly the largest - with a capacity of 67,144 - and the organisation says that extra capacity and the extra ticket receipts it could yield would allow the Scottish FA to generate "significant sums for the betterment of the Scottish game".
Murrayfield boasts good tram and bus links from Edinburgh airport, the city centre and the capital's two train stations - Waverley and Haymarket - with the stadium a 20-minute walk from the latter.
It has staged football before, with Celtic playing European fixtures there in 2014 while Celtic Park was in use for the Commonwealth Games, and Hearts staging four Premiership matches at the ground last autumn while Tynecastle was being redeveloped.
Edinburgh Council leader Adam McVey says the stadium has put together a "comprehensive and compelling bid" and that it is an opportunity to "embrace a new era".
However, critics will point to similar problems in terms of some fans being far away from the pitch and a lack of trains at peak times.
Some, too, rail against the idea of Scottish football's governing body effectively putting money into rugby, rather than keeping it in their own sport.
What do the pundits think?
Former Scotland midfielder Michael Stewart
This is the perfect scenario: you redevelop Hampden into a tighter 35,000-seater stadium and you utilise Murrayfield for the big games. Then for games against Albania, for example, you go to other stadia - Pittodrie or Easter Road or Tynecastle - because you wouldn't even get 35,000.
Ayr United boss and ex-Queen's Park and Rangers player Ian McCall:
It is unthinkable we move from Hampden. Most Scottish people would be devastated - it is our spiritual home. There would be an enormous emotional backlash. Some things in this day and age have got to be sacred. Some things are emotive, and have to stay emotive - that is what Scottish football is.
BBC Scotland chief sports writer Tom English
I would move it around the country but, given the two options, I would go for a redeveloped Hampden. It would be a seismic call to leave Hampden and for the life of me I cannot see this board exposing themselves to the kind of backlash that would follow if they picked Murrayfield.