Garth Crooks' team of the week: Maguire, Milner, Mitrovic - and who else?

By Garth Crooks
Football analyst
Last updated on .From the section Premier League

Premier League champions Manchester City were held by Wolves at Molineux, Unai Emery recorded his first win as Arsenal manager condemning West Ham to a third straight loss, Mohamed Salah scored the only goal as Liverpool beat Brighton, and Fulham scored four against Burnley to secure a first win since gaining promotion back to the Premier League.
Chelsea and Watford maintained their winning starts with victories over Crystal Palace and Newcastle respectively, while 10-man Huddersfield held on for a point against Cardiff.
But who did enough to make my team of the week? Read my selections and then pick your own XI.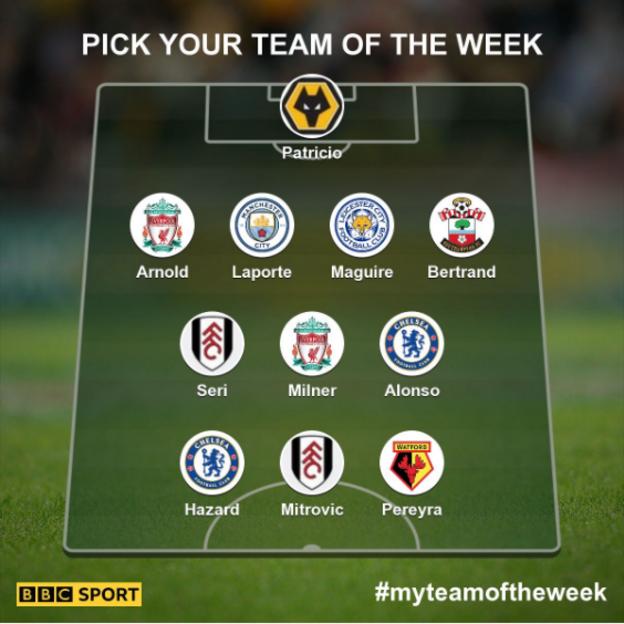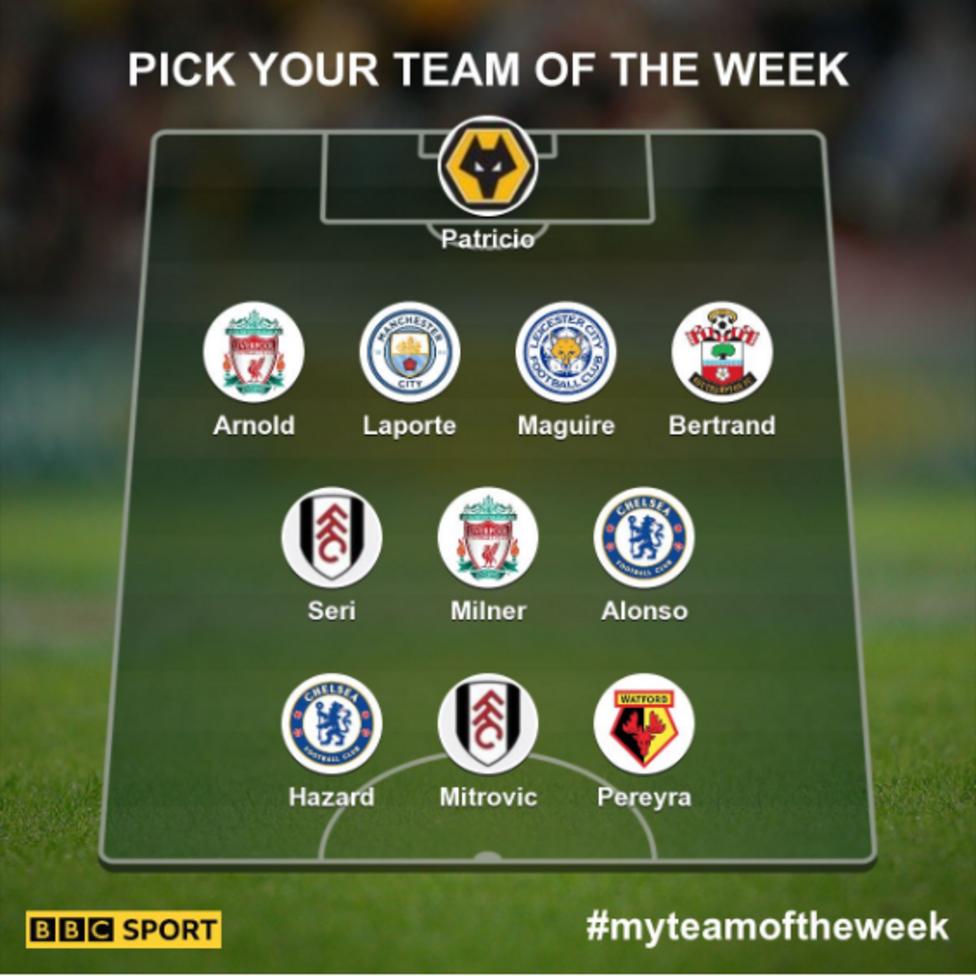 Goalkeeper - Rui Patricio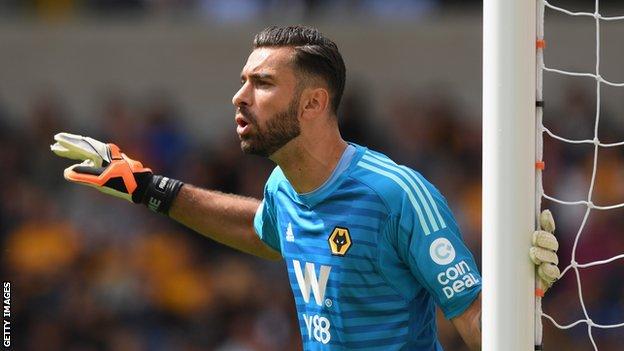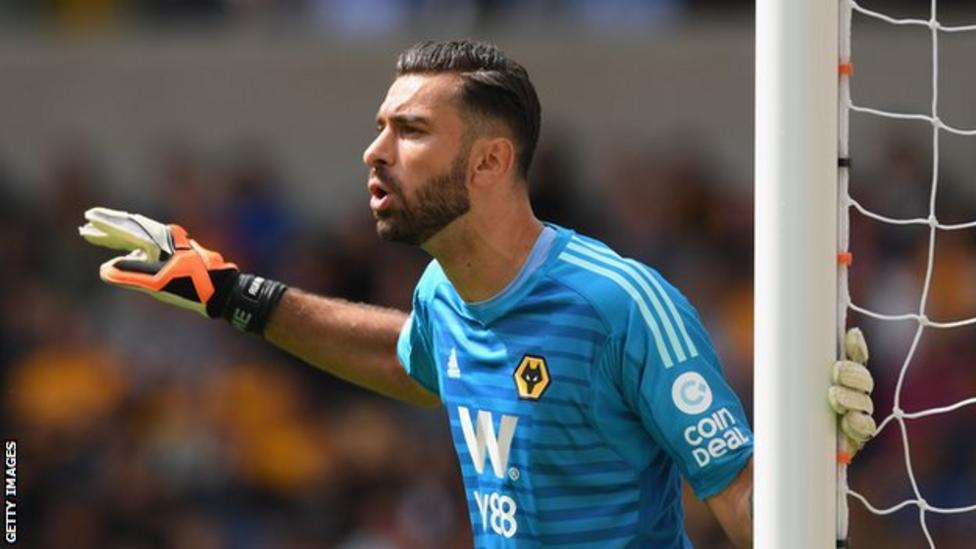 Rui Patricio: The saves that denied Sergio Aguero and Gabriel Jesus were excellent but how Rui Patricio managed to push Raheem Sterling's cracking shot on to the bar I will never know.
And how on earth did referee Martin Atkinson refuse to award Manchester City's David Silva a penalty kick? You occasionally see games that make you wonder what exactly the referee saw at the time.
As far as I was concerned, Ruben Neves practically assaulted Silva in the penalty area. Penalty or not, without the heroics of home keeper Patricio it's the Wolves who would have found themselves on the end of a mauling.
Did you know? Rui Patricio made five saves against Manchester City, compared with just one in his previous game against Leicester.
Defenders - Trent Alexander-Arnold, Aymeric Laporte, Harry Maguire, Ryan Bertrand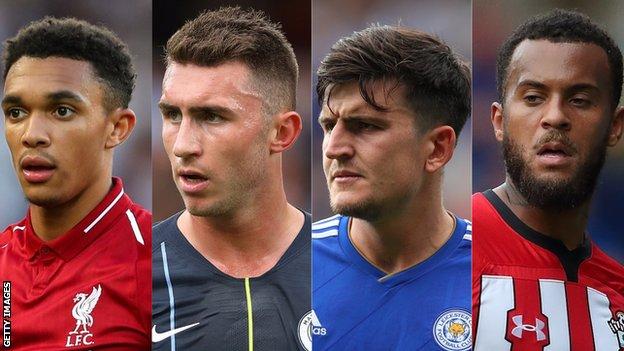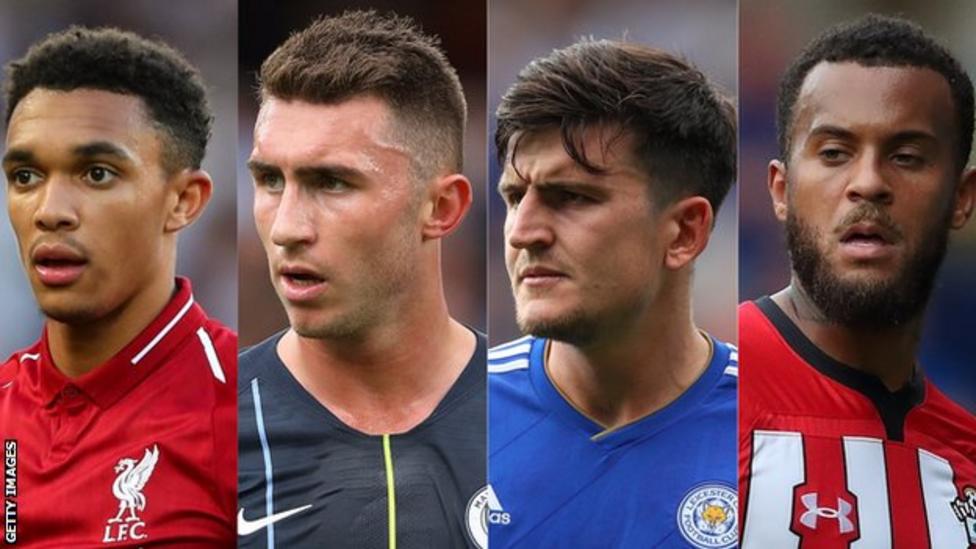 Trent Alexander-Arnold: This lad gets better every time I see him. Against a dogged Brighton, the Liverpool and England full-back showed a maturity well beyond his years.
I was surprised to see Arnold standing on his own ready to take the free-kick that hit the bar while Mohamed Salah and James Milner stood and watched.
Alexander-Arnold is a defender who loves to play forward, not square or back, because he's not afraid and has the talent to do it. But the moment of the match for me was the 40-yard pass to the feet of Salah on the other side of the pitch. I thought I'd died and gone to heaven. What a ball.
Did you know? Trent Alexander-Arnold completed five open-play crosses - no Liverpool player made more.
Aymeric Laporte: This was a game that Manchester City should have won comfortably and to Wolves' credit the Midlanders made the champions work like dogs just to get a point.
City's equaliser was down to Aymeric Laporte, whose bullet header was unstoppable. From the moment Ilkay Gundogan delivered the set-piece Laporte never took his eyes off the ball until he had thundered it past Patricio.
It needed something a bit special to get past the Wolves goalkeeper with the form he was in.
Did you know? Aymeric Laporte scored his first goal for Manchester City in any competition and his first in the top five European leagues in 37 games, since scoring for Athletic Bilbao against Villarreal in April 2017.
Harry Maguire: It was only a matter of time before Harry Maguire got into my team of the week. The former Sheffield United and Hull centre-back had a super World Cup for England and the player has not allowed a scintilla of speculation linking him with a move to Manchester United to affect his game.
He was as solid as a rock for Leicester against Southampton in defence but probably the most unlikely person on the pitch to get the Foxes' winner in open play - and that's what he did.
Precisely what this victory meant for Leicester's manager Claude Puel on his return to St Mary's - having been unceremoniously booted out of the club - is anyone's guess, but I bet he slept well.
Did you know? Harry Maguire made a total of 10 clearances against Southampton - the highest in Leicester City's team.
Ryan Bertrand: In a better team Ryan Bertrand would almost certainly have gone to the World Cup with England. There's no doubt about the lad's ability.
His magnificently struck goal against Leicester was testimony to that. Few full-backs in the country can strike a ball like that. What a pity his Southampton team-mate ruined it all with a dive Olympian Tom Daley would have enjoyed.
John Moss was absolutely right to send off Pierre-Emile Hojbjerg for a second yellow card for being so galactically stupid and I just hope that Ryan Bertrand told Hojbjerg so in the dressing room afterwards. More about dressing room culture in The Crooks of the Matter below.
Did you know? Southampton's Ryan Bertrand netted his first Premier League goal in 43 appearances, since scoring against Chelsea in April 2017.
Midfielders - Jean Michael Seri, James Milner, Marcos Alonso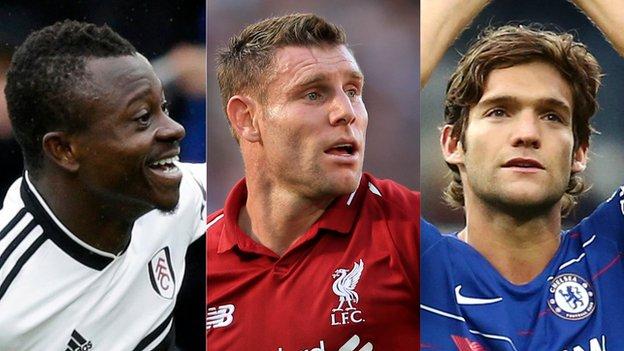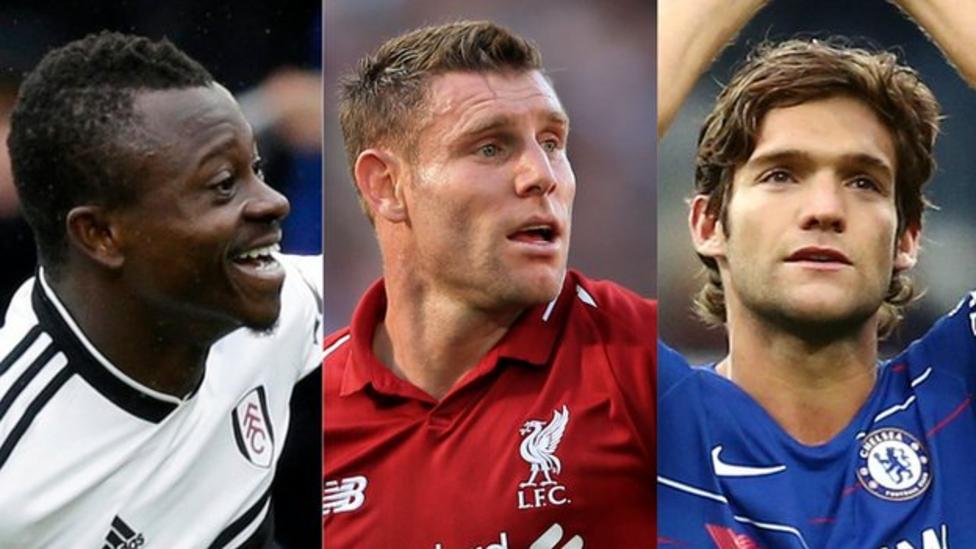 Jean Michael Seri: If ever Fulham needed a boost then Jean Michael Seri's fourth-minute blockbuster was it. The Ivorian's strike flew past Joe Hart like a rocket.
The last I heard, this was a player we all thought was going to Barcelona, so I'm not entirely sure how he ended up at Craven Cottage. But with goals like this, who cares?
As for Burnley, this is the second time they have lost having played midweek in Europe. At the end of last season I told Sean Dyche to play the kids in the Europa qualifying rounds but he looks like he's taking these games far too seriously. Ditch this tournament before the proper draw takes place in Monaco and you get caught up in all that glamour.
Did you know? Jean Michael Seri scored his first Fulham goal with his first shot on target in the Premier League.
James Milner: I feel compelled to include James Milner among my selection because if I don't he will continue to be overlooked for those who are more skilful, excellent finishers or those who simply have a better day.
What you get with Milner is nothing special but you do get a wonderful level of consistency. In fact Milner is almost always a candidate for my team most weeks, such are his performances.
The way the Liverpool captain pounced on Brighton's Yves Bissouma was reminiscent of a cobra and with a bite to match. Brighton's error cost them the fixture. The way Leon Balogun gave Bissouma the ball in such a difficult position with his back to the play lacked any thought or consideration for his team-mate.
Did you know? James Milner completed 69 passes in the opposition half - more than any of his team-mates.
Marcos Alonso: When Marcos Alonso takes to the field he almost always affects the game. If he's not scoring goals then he's making them.
Against Newcastle this very elegant player did both. This is the second consecutive week Alonso has starred for Chelsea in a run of games that has seen the Blues unbeaten with maximum points.
As for Rafael Benitez and Newcastle - the limited resources at the Spaniard's disposal at St James' Park raise the question: is this really the place for him?
Did you know? Marcos Alonso covered 11.39km against Newcastle - only team-mate Jorginho covered more distance.
Forwards - Eden Hazard, Aleksandar Mitrovic, Roberto Pereyra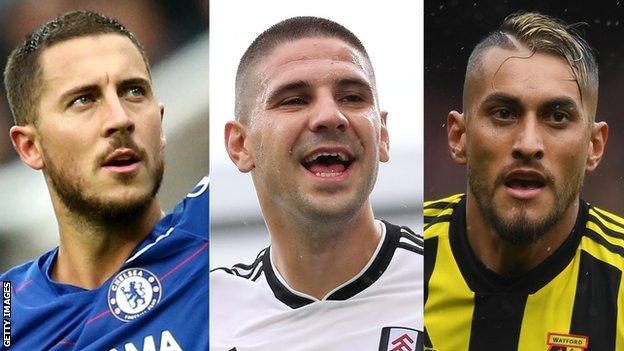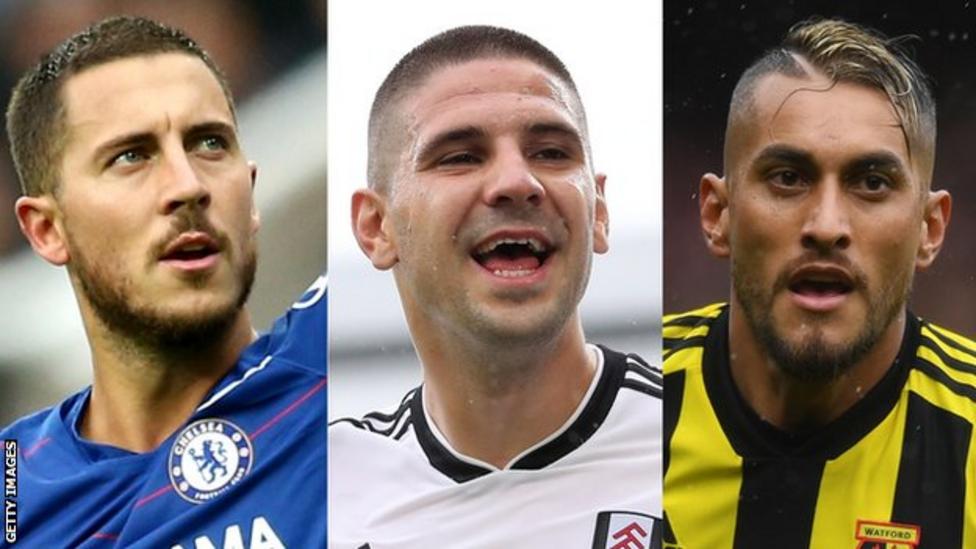 Eden Hazard: The penalty given by referee Paul Tierney was debatable but there is nothing debatable about the man who took the spot-kick, or his performance. Eden Hazard strolled through this game and was head and shoulders above everybody else on the pitch.
The Belgium international seems to have been given the freedom to do whatever he likes under Maurizio Sarri. Not so under Mourinho or Conte. Both Sarri's predecessors had volatile temperaments and fragile relationships with Hazard.
For all of football's rhetoric about sports science, fitness and the tactics of the modern game, there's one thing that will never change. Managers need to take care of their best players or their best players will eventually desert them.
Did you know? Eden Hazard has now scored seven Premier League goals against Newcastle - he has not scored more against any other team (also has seven v West Brom).
Aleksandar Mitrovic: What a fantastic purchase Aleksandar Mitrovic is proving to be for Fulham. The Serbian international left Newcastle with his tail between his legs and a big question mark about his ability to cope in the Premier league.
I must say, I saw Mitrovic play at the Cottage in the opening game of the season against Crystal Palace and I wouldn't have paid £22 for him never mind £22m.
But since his arrival in London from St James' Park he has not stopped scoring and may be the catalyst to Fulham's survival in the Premier League. I still have my doubts about his ability to star in the top flight, but what a start!
Did you know? Aleksandar Mitrovic has scored 15 league goals since his Fulham debut in February - the Serb is matched only by Mohamed Salah in the same period across the top four tiers of English football.
Roberto Pereyra: This was a spiteful game and I was amazed I didn't see players sent off. One of the few bright moments in this rather vindictive affair was the ability of Roberto Pereyra and his brilliantly taken goal.
The Watford winger has scored three goals this season and there look to be more in the bag. But what was referee Anthony Taylor thinking by ignoring Etienne Capoue's appalling tackle on Wilfried Zaha?
What's worse, Taylor then insists on booking Zaha for cleanly winning the ball a few minutes afterwards. Watford won this game comfortably in the end but not before they targeted Zaha and bullied Palace into submission. No thanks to Taylor.
Did you know? Roberto Pereyra has been directly involved in seven of Watford's past 11 goals in the Premier League, scoring six and assisting another.
Now it's your turn
You've seen my picks this week. But who would you go for?
Pick your Team of the Week
Pick your XI from our list and share with your friends.
The Crooks of the Matter
I have been watching the fly-on-the-wall documentary about Manchester City's title-winning season and, I must say, it's been absolutely riveting.
I spent a good deal of my early life in football dressing rooms and they are not for the faint-hearted. In fact the day I retired I went to great lengths not to go anywhere near another one for a very simple reason - if you are not a member or part of the team you have no business being in the room at all.
To be given an opportunity to see what goes on in a modern-day dressing room, its facilities, equipment, the science, not to mention the methods adopted for a modern generation of players, is as fascinating to me as it gets.
So I am immensely grateful (and so should the viewing public be) to get a glimpse of what happens during the most intense moments, not just in a Premier League dressing room but the dressing room of the champions. These glimpses might be commonplace in the USA but they are not to be taken for granted here.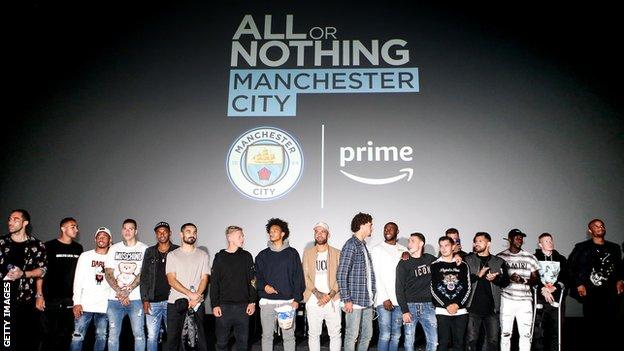 I remember seeing a similar documentary some years ago when my dear friend and contemporary Peter Reid, during his successful managerial spell at Sunderland, gave a camera crew total access.
I remember thinking at the time, has Reidy gone mad? It's one thing having your mistakes choreographed in front of a football crowd but it's something entirely different when those mistakes are highlighted in living colour in front of a watching nation. It takes a very special individual with a lot of courage and self-belief to do that.
My admiration for Peter grew after his moment in the spotlight and the same is true of City boss Pep Guardiola. That Jose Mourinho has seen fit to be so dismissive of the documentary is hardly surprising. The programme was showing all who wanted to watch just how badly Mourinho and Manchester United had just had their backsides kicked.
Manchester City beat their neighbours and fiercest rivals by a staggering 19 points, so to call the documentary 'classless' was in itself misjudged and ill-timed, and made Mourinho look tawdry.
The reality is Guardiola has taken football to another level and Mourinho is desperately struggling to come to terms with that fact.