Premier League stats: Mourinho, Jorginho, Huddersfield, Arnautovic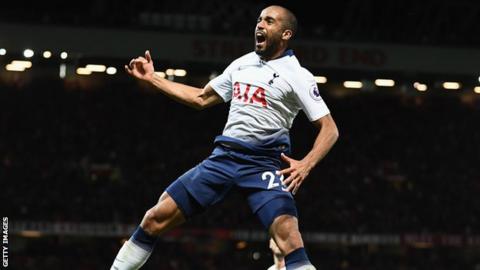 The scoreline looks bad. The statistics look even worse.
Manchester United set a few records in mediocrity as they lost back-to-back Premier League games for the first time since May 2017 with a 3-0 home defeat by Tottenham.
Elsewhere, Mohamed Salah may face competition and Chelsea land themselves a nice Italian motor.
BBC Sport takes a look at the key numbers from the Premier League weekend.
Mourinho crumbles to a career low at home
Man United's 3-0 defeat by Tottenham at Old Trafford was no surprise to former Chelsea striker Chris Sutton, who said the club "are no longer feared" by visiting sides.
And the numbers do not tell a pretty story.
This was Mourinho's worst ever home defeat in any competition as a manager.
Mourinho has lost two of his first three league games for the first time in his career.
This was United's biggest top-flight loss to Tottenham at Old Trafford since a 4-1 defeat in October 1972.
Spurs condemned United to their 50th home defeat in the Premier League, but 32% of those have come since Sir Alex Ferguson's departure in 2013.
Is there any light at the end of the tunnel for United fans?
Well, the last time the club lost two of their opening three Premier League games, in 1992-93, they went on to win the inaugural competition.
Over to you, Jose.
Pass master Jorginho
When Maurizio Sarri decided he needed a new set of wheels in his midfield, the new Chelsea boss got himself a Rolls Royce.
Jorginho continued his composed and classy start to life in a Blues shirt by completing 158 passes against Newcastle on Sunday - 27 more than the whole of the Magpies team combined.
Rafa Benitez's men sat deep and barely ventured out of their own half at St James' Park, but that being said, you would not expect one man to see as much of the ball as the Italian did.
This is the Premier League after all.
However, while the numbers from this weekend may seem astonishing, Jorginho is far from a one-trick pony.
The former Napoli midfielder has completed the most passes of any player in the entire Premier League so far, with 311 - 71 more than Liverpool defender Virgil van Dijk in second place.
Who can come close to Salah?
Mohamed Salah has been involved in the most goals in the Premier League in 2018 and the Egyptian continued his rich vein of form by grabbing the winner against Brighton on Saturday.
But can you guess who comes in behind the Liverpool forward in second? It's probably not who you would think.
West Ham's Marko Arnautovic is joint third on the list - the Austrian has had a hand in 14 Premier League goals in 2018 (eight goals, six assists), behind only Salah (22) and Tottenham's Harry Kane (16).
The Hammers forward was on the scoresheet again on Saturday when he gave the visitors the lead at the Emirates, before Arsenal scored three to claim their first win under new boss Unai Emery.
Arnautovic has scored both of West Ham's goals so far this season, but unfortunately for manager Manuel Pellegrini, the forward had to be substituted in the 59th minute with a knee injury.
No points and possibly no talisman striker? It could be a rough few weeks for the Hammers.
But if you're looking for another rival to King Salah's throne, head to Craven Cottage.
Fulham striker Aleksandar Mitrovic scored twice in his side's 4-2 win over Burnley on Sunday, meaning he has 15 league goals since his debut for the Cottagers in February - making him the highest goalscorer in England's top four tiers during that time alongside... yup, Salah.
Free-scoring Frenchmen
If the Premier League were a meal, it would be a full English breakfast served with a side order of French fries.
When Aymeric Laporte scored his first goal for Manchester City at the weekend, he took the total number of goals scored by French players in the Premier League to 1,500.
Some classy individuals have crossed the channel to ply their trade in England, with the likes of Thierry Henry, Eric Cantona and David Ginola all gracing the Premier League.
And as a result, France sit second behind England (10,792) for the total number of goals by any country in the top-flight.
Which countries have made a mark on the Premier League?
Total goals by nation
Total players to score from each nation
England - 10,972
England - 809
France - 1500
France - 118
Scotland - 953
Scotland - 105
Republic of Ireland - 950
Republic of Ireland - 96
Netherlands - 916
Netherlands - 84
The current world champions are also the best of the rest in terms of the number of players from any country to score in the Premier League, as Laporte became the 118th different Frenchman to find the back of the net.
English players are on top with 809 and Scots are third, with 105 goalscorers.
Now we're giving you the chance to test your knowledge on our best French imports by having a crack at our quiz below.
Can you name the top 21 French goalscorers in Premier League history?
One goal from 100 shots - should the Terriers be worried?
We're only three games into the new season, but is the writing already on the wall for Huddersfield?
David Wagner's men narrowly avoided relegation last season after finishing with 37 points - four more than Swansea in 18th.
Seven of those points were won in the first three games which gave them a solid foundation, but they've only achieved one point at the same stage this time around.
And in their last eight home games, they have produced one goal from 103 shots - that's a 0.97% conversion rate.
Huddersfield's shooting woes at home
Game
Shots
Goals
0-0 v Cardiff
5
0
0-3 v Chelsea
6
0
0-1 v Arsenal
19
0
0-2 v Everton
9
0
1-0 v Watford
9
1
0-2 v Crystal Palace
6
0
0-0 v Swansea
30
0
0-2 v Man United
19
0
On top of that, the Terriers have conceded nine goals so far, albeit against Man City and Chelsea, but Saturday's stalemate with newly-promoted Cardiff shows a cause for concern at the other end too.
Since the start of last season they've failed to score in 23 of their 41 Premier League games (more than any other team in this period).
Worrying times if you're a Huddersfield fan.