Vincent Tan: Cardiff City have the players and team spirit to survive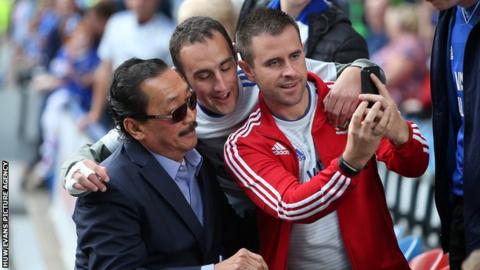 Cardiff City manager Neil Warnock has the players and the team spirit to survive in the Premier League, insists owner Vincent Tan.
The Malaysian businessman saw Cardiff's goalless draw at Huddersfield, a rare appearance from him at an away fixture.
The Bluebirds made seven summer signings, the largest fees being spent on Josh Murphy and Bobby Reid.
"I think last season Neil proved the bookies and pundits wrong so I believe we have a good chance," said Tan.
"We believe we have enough good players to stay in the league and we have the team spirit.
"Four years ago I did not really get along with the manager [Malky Mackay], but me and Neil work together and speak often."
The Bluebirds now face a difficult run of fixtures, which includes games against champions Manchester City, Arsenal, Chelsea and Tottenham Hotspur.
Despite the odds being against them, Tan remains hopeful that the Bluebirds can go one better than last time they were promoted to the Premier League and remain there.
"It's exciting, I'm very happy and everyone is to be back in the Premier League," added Tan.
"We pray we will stay in the league for the while, it's different this time.
"The stadium is packed, everyone is in a great mood and we hope to be there for a long time."
'Enjoy' it, urges Warnock
Warnock says the Bluebirds must "go and enjoy" the run of games against big-name opposition that begins with the Gunners heading to Cardiff on Sunday, 2 September.
"Wherever we are after these three games, it's not going to decide out future," said Warnock.
"It's games like at Huddersfield.
"I'm so looking forward to the next three games because as a manager you don't get a chance to manage against teams like this very often, not if you're English."