EFL to meet Charlton Athletic to discuss 'current situation' at club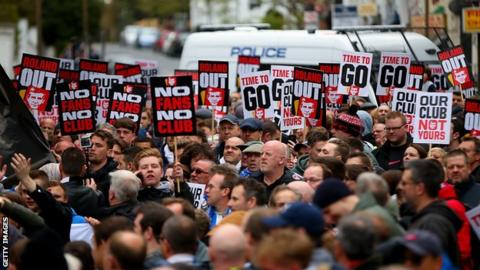 The English Football League says it will meet with Charlton and the club's supporters' trust after comments about "day-to-day operations" at The Valley.
A coalition group has planned a protest at their League One game with Fleetwood on Saturday after club employees said they were owed bonuses.
Charlton owner Roland Duchatelet told staff incentivised bonuses would not be paid after a "very bad financial year".
He agreed a price to sell the club in February but the takeover is ongoing.
"Following a number of discussions dating back a number of weeks, the EFL plans to meet with both Charlton Athletic and the Charlton Athletic Supporters' Trust to gain a full understanding of the current situation that surrounds the club," the EFL said.
The club has not confirmed whether staff are owed bonuses but said they will "continue to fulfil contractual obligations", adding employees have never been paid late during Duchatelet's four-and-a-half-year reign at the London club.
Charlton coalition group Campaign Against Roland Duchatelet (CARD) have suspended a boycott call to instead stage a protest - as they have done on several occasions - including when fans threw thousands of plastic pigs onto the pitch in 2016.