Sport & Leisure Swifts plan to rename as iconic Belfast Celtic put on hold by IFA
Last updated on .From the section Irish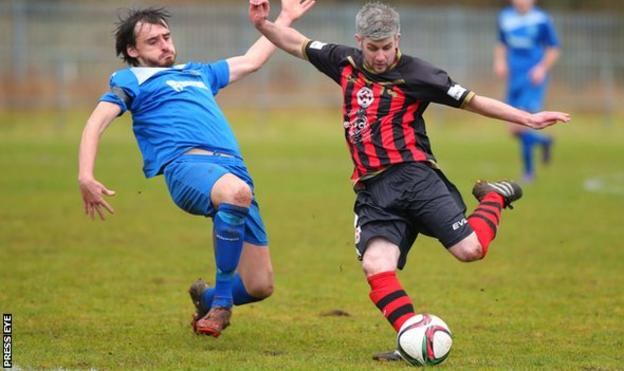 The Irish FA has said that it will not make a decision on whether West Belfast-based club Sport & Leisure Swifts can change their name to Belfast Celtic until before the 2019/20 season.
An IFA board meeting on Thursday night ruled that the request had come too late to be considered for this season.
This was because the plea came over a week after the club affiliated to the County Antrim FA for this season.
Sport & Leisure, founded in 1978, play in the Premier Intermediate League.
"As the club affiliated to the County Antrim FA on 26 June for the 2018/19 season, and first contacted the Association on 5 July regarding the name change, the board determined that the request will be given active consideration ahead of the affiliation deadline for the 2019/20 season," said an IFA statement.
Belfast Celtic were one of the biggest teams in Irish football before folding in 1949.
Their annual Boxing Day meeting with rivals Linfield gained infamy in 1948 when the match ended with fans streaming onto the field and attacking players.
Belfast Celtic striker Jimmy Jones was left unconscious with a broken leg and the club's directors then took the decision to withdraw from the league upon conclusion of the season.
Sport and Leisure Swifts, currently managed by Pat McAllister, want to change their name citing a "desire to improve the club, to improve footballing prospects for young people in West Belfast and to promote a high level of sporting excellence".
West Belfast is the only area of the city to not currently have representation in the Irish Premiership.