Video assistant referee (VAR): Four EFL Cup ties to feature technology trial
Last updated on .From the section League Cup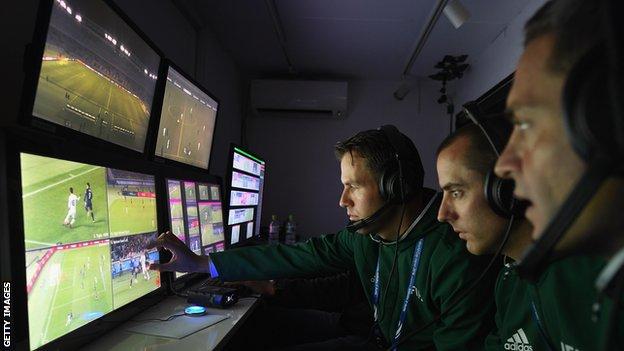 Four EFL Cup second-round ties will trial the use of the video assistant referee (VAR) system, the English Football League has confirmed.
It will be the first time VAR has been used in multiple games simultaneously.
Brighton's game against Southampton, Fulham's with Exeter, Leicester's match with Fleetwood and Rotherham's trip to Everton are the matches chosen.
The trial limits use of VAR to goals, penalty calls, direct red cards and cases of potential mistaken identity.
The selected ties will take place over 28-29 August.
"The emphasis of the experiment is to focus on clear and obvious errors," the EFL said in a statement.
"In this way, the system aims to minimise any interference with the flow of the game and maximise the advantages of reviewing the video replays.
"Given the subjective nature of football and a desire to maintain the flow and spectacle of the game, the system is not intended to achieve 100% accuracy in every decision.
"The original decision of the referee on the pitch can only be changed if a video review shows a clear and obvious error."
Fans in the stadium will see the following messages displayed to keep them in the loop.
VAR Check in Progress

VAR Check In Progress - Checking Goal

VAR Check In Progress - Checking Penalty

VAR Check In Progress - Checking Red Card

VAR Check In Progress - Checking Mistaken Identity

VAR Check Complete

VAR Check Complete - Original Decision Overturned