Sunderland documentary series to be released in December
Last updated on .From the section Football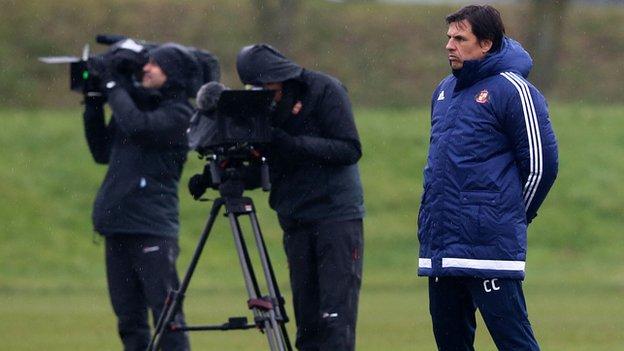 Imagine being able to relive the most painful season of your beloved football club's history...
Well, that's what Sunderland fans (with a Netflix subscription) will be able to do from December.
Production company Fulwell 73, (the team behind the Class of '92 and One Direction: This Is Us), have produced an eight-part series called 'Sunderland Til I Die', which will take Black Cats fans behind the scenes of their infamous 2017-18 Championship relegation season.
It comes after Manchester City were followed by Amazon's cameras during the same period, documenting their record-breaking Premier League title-winning season.
The two clubs had very different results between August 2017 and May 2018, with the North East side's season going from bad to worse - and then to unbearable.
Executive producer of the series and life-long Sunderland fan Leo Pearlman said: "Sunderland Till I Die is a deeply personal series for us at Fulwell - we named our company after the club, it's where our family is from, and we are still and will always be passionate fans of Sunderland Football Club.
"It was always a dream to follow our club through the highs and lows of a season and although this past year didn't give us the success we all craved, we do believe through this story we've been able to show the unique relationship every fan has with the club they love and follow, no matter what the circumstances."