Manuel Pellegrini: West Ham boss urges fans not to leave games early and back team
Last updated on .From the section West Ham186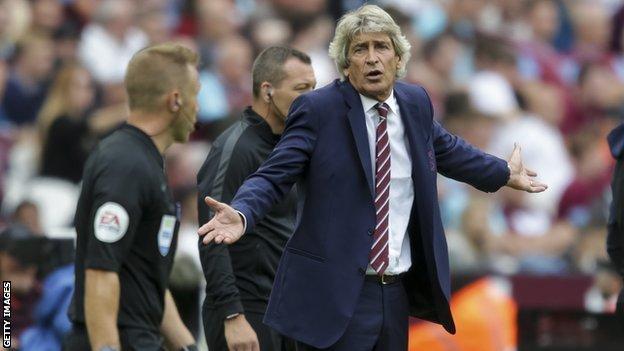 West Ham manager Manuel Pellegrini has urged the club's fans not to leave games early and get behind the team.
Many left during the club's 2-1 Premier League defeat by Bournemouth at London Stadium on Saturday.
That followed a 4-0 loss at Liverpool on the opening day, but Pellegrini, who took charge in the summer, said "the players need everybody together".
"I perfectly understand if you are losing 4-1 or 5-1, maybe you leave early, but losing 2-1?" he said.
"Maybe the fans had a reason, but I just want to clarify their importance.
"It is not about how much I criticised the fans - it is how much the team needs the fans."
West Ham travel to Arsenal in the Premier League on Saturday before returning to their home ground to face Wolves on 1 September.
Off-field issues
The east London club have become embroiled in more off-field issues after a dispute with their landlords about the colour of the pitch surround.
"What I don't want to have is an excuse because we have some problem with the colour of the track - we need to have the solution on the pitch, not off it," said Pellegrini.
"Maybe there are issues being talked about, maybe they can be sorted, but I don't want to link those things."
BBC Sport understands West Ham are willing to pay up to £380,000 to change the pitch surround.
On Wednesday, vice-chairman Karren Brady gave E20 - the company set up to run the stadium - two weeks to accept the club's offer to pay for a new pitch surround in the club's claret colours, a dispute that has been rumbling almost since they moved in two years ago.
A day later, another row emerged with West Ham "frustrated and angry" that their honours list had been removed from the stadium, with Brady claiming the club had been "held to ransom" and threatening legal action.
West Ham say the list, which for the past two seasons has been positioned around the middle tier of the west stand, was removed by E20 while the stadium - the venue for the 2012 London Olympics - staged a number of non-football events in the summer.
They claim E20 demanded fees for maintenance of the stadium's big screen, which is not in the Hammers' tenancy agreement, and that E20 then said it would not restore the list unless those fees were paid.
"For the second year running E20 have attempted to force us to pay a fee we are not liable for. The club simply cannot continue to yield to paying invented invoices year after year," said Brady.
"We are frustrated and angry that our landlords should act in this underhand way and we will not hesitate to take a legal route to confirm our rights under the tenancy agreement."