Son Heung-min: Could the Tottenham forward really do military service?
Last updated on .From the section Football253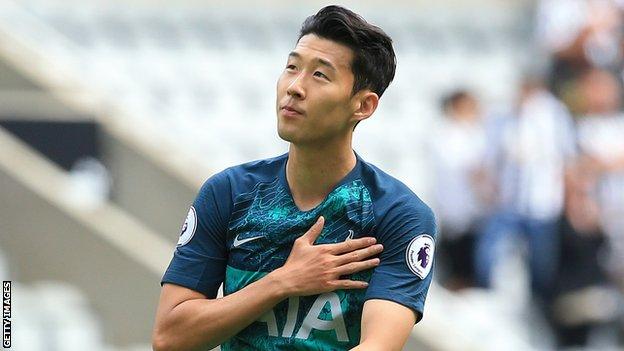 In June 2017, Gareth Southgate's England squad arrived at St George's Park expecting the usual whiteboards and warm-ups for forthcoming matches against Scotland and France.
Instead they were met by a Royal Marine, who announced a change of plan.
The squad were whisked to the Commando Training Centre in rural Devon, given camouflage kit instead of tracksuits and plunged into a lost weekend of mud, shouting and camping.
It scratched a particular itch for English football.
Since the days of John Beck and Dave Bassett putting their Cambridge and Wimbledon squads through pre-season at the barracks, a shot of stripped-down old-school army discipline has bonded and honed players.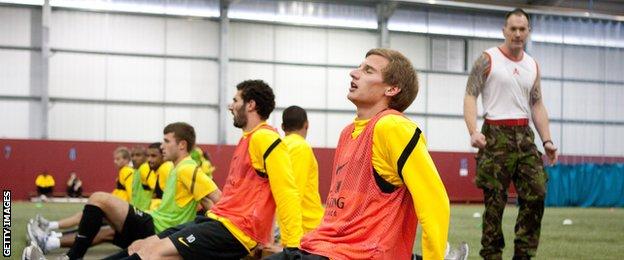 Son Heung-min's time in khaki could be much longer and lonelier.
Tottenham's South Korea international is yet to carry out the two-year mandatory military service expected of his countrymen.
He could earn an exemption.
He is currently in Indonesia at the Asian Games chasing a gold medal that, along with an Olympic podium finish, is the only automatic way for a South Korean footballer to be excused.
A final against historic rivals Japan separates him from the pass to an uninterrupted career.
Defeat on Saturday and the consequences are stark and fairly immediate.
Now 26, he could expect the sort of call-up that comes with a clipper cut in the next 18 months.
Five weeks of basic training, covering military drill and combat essentials, would follow.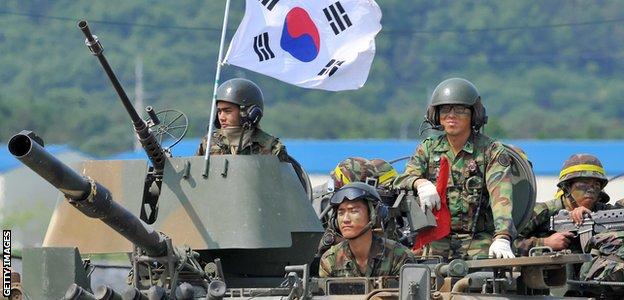 Previous recruits report then spending their days guarding remote, freezing mountain outposts looking out over North Korea - the rogue neighbour with whom South Korea is still technically at war with 65 years after fighting halted- and their nights in giant 40-bed dormitories.
You might presume that, in reality, things will be different. That an accommodation will be found and wheels will be greased to keep Son aboard the Premier League juggernaut.
But that is far from certain.
"The higher the profile, the more difficult it is to get out of these things," says James Hoare, Associate Fellow at Chatham House and an expert on the Korean peninsula.
"There is no system in the world that doesn't have loopholes, but it is seen as such an important part of your commitment to the Republic, that trying to get out of it is not seen very positively.
"Service in the military is both an honour and an obligation. It is seen as proving you are a real Korean and that you have the country's interest at heart even if you have long hair or magic football boots.
"The military is a very powerful organisation and they tend not to favour the rich or influential if they can avoid it."The test cases come thick and fast.
In 2012, 26-year-old then-Arsenal striker Park Chu-young used a residency permit he had obtained in Monaco as grounds for a ten-year delay on his duties.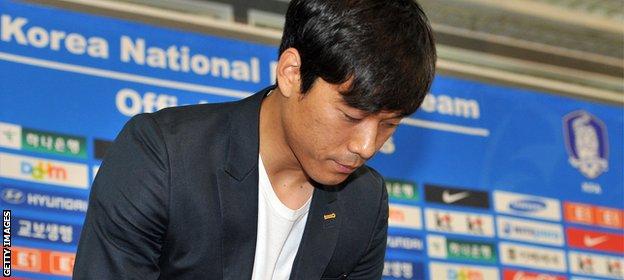 His decision triggered furious criticism back home. He was dropped from the national team, returned to Seoul to apologise and the authorities have since tightened up residency excuses.
In 2010 MC Mong - reality TV star and hip-hop artist - was accused of using a dentist rather than a lawyer to keep himself out of the military.
He was alleged to have had two healthy teeth removed in an attempt to invalidate himself on medical grounds and ended up with a six-month suspended jail term.
Pin-ups from the country's burgeoning K-Pop music scene regularly disappear from public view to tears from fans.
Psy - of Gangnam Style fame - served twice, after being redrafted for the crime of continuing a sideline pop career during his first spell in the military.
Baek Cha-seung, a baseball pitcher who played for the Seattle Mariners and San Diego Padres in the mid-2000s, had to renounce his Korean citizenship in favour of an American passport to keep playing.
His attempt to have his South Korean citizenship restored earlier this year was refused by the authorities.
The effect on sportsmen who instead dutifully serve their time can be stark.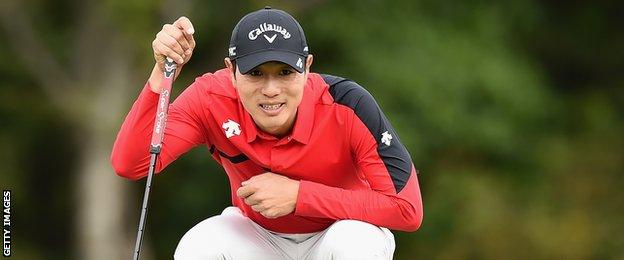 In 2015 golfer Bae Sang-moon - a PGA Tour professional ranked in the world's top 100 - argued that his residency in the United States meant he should be allowed to delay his service until his top-level career was over.
A court in Daegu ruled otherwise and he spent two years as a rifleman in his nation's army.
"From the day when I was a private second class, a private first class and even the last day of the service, I wanted to be discharged from the military," he said in September 2017 after finally getting his wish.
"I wanted to play in tournaments, I wanted to sleep at home and I wanted to drive."
He hoped that his spartan existence, living off wages of around £80 a week, while route marching and lifting weights, might have sharpened his competitive edge.
He came back physically and, he claimed, mentally stronger, but poorer at golf.
He has missed the cut in 11 of his 16 PGA events since 2017.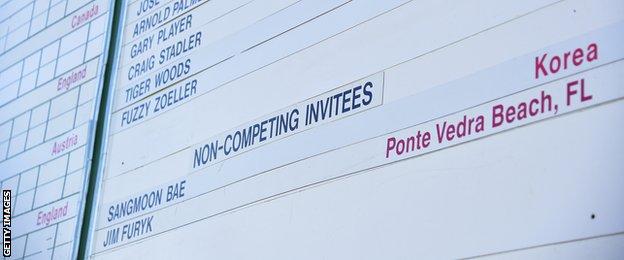 South Korea's top footballers have largely been spared through their own success.
Park Ji-Sung, a Champions League winner with Manchester United, was part of the squad that were honoured with a special exemption after reaching the semi-finals of the 2002 World Cup.
Newcastle midfielder Ki Sung-yueng was in the bronze-winning London 2012 side that had their military service slashed to just four weeks.
"It's something we all respect. It's not fair to say we are famous footballers so we don't have to do it," Ki told the Sun in March.
"Sonny and I can't just be given special treatment because we're Premier League players."
Which is perhaps easier to say when you are facing only a fraction of the usual two years confined to barracks.
Son too could have been free of the full obligation.
In 2014, while playing at Bayer Leverkusen, he was selected to play in the Asian Games.
However, with the tournament falling outside Fifa's official calendar and conflicting with two Champions League games, his German club took up their right to refuse his release.
In Son's absence, South Korea beat neighbours North Korea to take gold and earn another generation of players a pass from their duties.
Tottenham - who have not commented on the prospect of Son's military service - have not repeated Leverkusen's stance.
Off the back of a tiring World Cup campaign, they allowed Son to head to Indonesia in the hope of a successful title defence that would end the uncertainly around a player they bought for about £22m and signed to a new five-year contract in July.
The man himself has been coy on subject.
In an interview with Time magazine before the World Cup in June he replied only that he was not thinking about the possibility of a military exemption, before his agent blocked the line of questioning.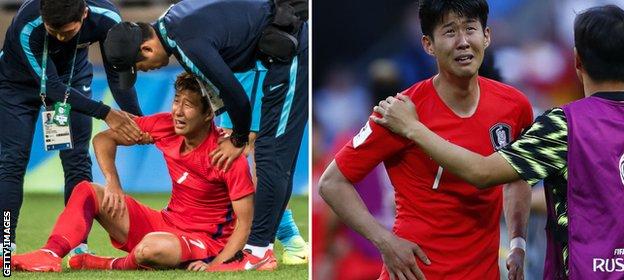 His emotions have spoken loudly though.
Son's tears in the wake of quarter-final defeat by Honduras at Rio 2016 and a group-stage exit at Russia 2018 have earned him much sympathy in his homeland.
An online petition in which signatories told the president that they would do double the military service if Son could skip it attracted thousands of supporters.
But, without the requisite success on the pitch, excusing Son would be a tricky manoeuvre for the South Korean government to sell domestically.
It has recently clamped down on various ploys to dodge the draft, such as excessive weight gain or getting extravagant tattoos, which carry criminal connotations in Korean society.
And a legitimate way for Son to continue playing football and appease the Defence Ministry does exist.
Two clubs in the domestic K-league, Sangju-Sangmu - which is run by the Korean Army - and Asan Mugunghwa - the Korean National Police team - allow footballers to play out their military service as part of their squads.
To join either however a player has to have been part of another team in the K League during the previous season.
Should Son fail to land the Asian Games title on Saturday, Tottenham will surely be ready to make backchannel representations to keep him in north London.
But, in that situation, no-one can honestly be sure whether Son will be remaining on civvy street and White Hart Lane or heading home and into commission.