Police say 'lessons learned' after officers used PAVA spray on Stoke fans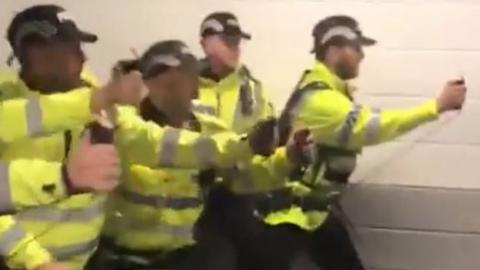 Police say "lessons have been learned" after officers used PAVA spray on a group of Stoke City fans during half-time at Preston North End on Saturday.
A video on social media showed officers facing a group of supporters in the concourse at Deepdale before discharging the incapacitant spray.
The mother of a 12-year-old Stoke supporter told the BBC her son was sprayed in the incident.
Championship side Stoke said they were "surprised" by the police statement.
Following a multi-agency debrief into the incident on Tuesday, police said officers faced an "extremely challenging situation" and used the spray "based on the best information available".
Chief Superintendent Pete Lawson said fans had been kicking an exit door and there had also been a report of an "attack" on a match steward.
"They acted in the honestly held belief that the threat they and others faced made the use of PAVA justified and proportionate," he said.
"Lessons have been learned including key points about the difficulties that can be experienced communicating effectively in a loud and crowded environment."
Stoke said: "We are surprised that they have issued the statement so quickly as it suggests they have completed their inquiry into the incident.
"Based on our current knowledge we are unable to agree or accept the conclusions they appear to have reached and would welcome further dialogue and investigation on the matter."
The Championship match finished 2-2. Preston were 2-1 up at half-time before a Peter Crouch goal in the second half earned a point for the visitors.
One Stoke fan claimed at the time that the police response was "diabolical", and added children were caught up in the incident.
PC Paul Elliot, Preston's football officer, apologised on social media to "innocent fans caught up in this incident".
Alfie Spain, 12, from Kidsgrove, told BBC Radio Stoke he was coming back from the toilet to rejoin his dad when it happened, and his throat and eyes were left stinging.
His mother Claire Wise said: "He just doesn't want to go to away matches, he's absolutely terrified. I've gone from having this bubbly 12-year-old who loves football to this boy that doesn't want to go to away matches."