Charlton Athletic: Coalition group CARD plans Roland Duchatelet protest over staff bonuses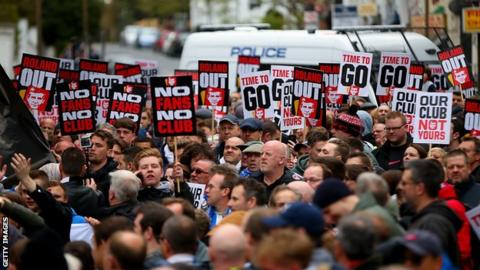 Employees at Charlton say they are owed bonuses by the club, with a coalition group calling on fans to protest at Saturday's home game against Fleetwood.
Owner Roland Duchatelet has told staff incentivised bonuses would not be paid after a "very bad financial year".
The Belgian agreed a price to sell the League One side in February but the takeover process is still ongoing.
"Before we can look at bonuses in the future, we need to restore the club's financial health," a statement read.
The club did not confirm whether staff are owed bonuses but said they will "continue to fulfil contractual obligations", adding employees have never been paid late during Duchatelet's four-and-a-half-year reign at The Valley.
However, a staff statement claimed bonuses were due to have been paid on 31 July.
"We wish to express our extreme disappointment at your decision not to pay hardworking staff the money that had been previously promised based on our performances this year," the statement read.
"The unanimous feeling amongst staff was that of anger and upset at both your decision and the lack of previous communication.
"We are considering our next steps to ensure payment of the bonuses as promised."
Charlton coalition group Campaign Against Roland Duchatelet (CARD) have suspended a boycott call to instead stage a protest - as they have done on several occasions - including when fans threw thousands of plastic pigs on to the pitch in 2016.