Premier League 'hype' means domestic talent gets missed, says Brighton striker Murray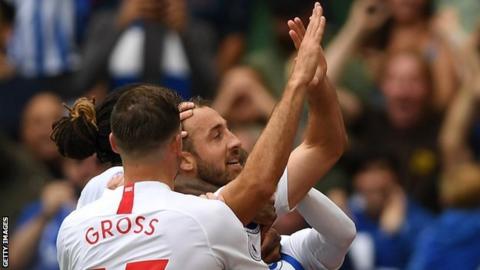 Brighton striker Glenn Murray says Premier League "hype" is preventing talented players from lower leagues realising their potential in England.
Premier League clubs spent about £880m of a £1.2bn transfer outlay on overseas players in the summer.
And Murray says domestic talent is too easily bypassed.
"There are players in the Championship that can play at this level comfortably, but sometimes never get the opportunity," he said.
"Sometimes they get overlooked for maybe cheaper foreign players.
"We know the English market is quite high and I think that sometimes puts clubs off. I think there is a lot of hype around the Premier League."
Thirty-four-year-old Murray, who started his career in non-league football, spent over a decade in the lower leagues before making his first top-flight appearance for Crystal Palace four and a half years ago.
He scored 12 league goals last season as Brighton finished 15th in the Premier League, seven points clear of the relegation zone in their first top-flight season for 34 years and was on target again as Brighton beat Manchester United on Sunday.
"You see with some of the promoted teams this year that they have got rid of some players and have brought some big names in. Thankfully our manager [Chris Hughton] did not do that," Murray added.
"He gave everyone that helped the club to the Premier League an opportunity in the Premier League and I think most of us have taken that opportunity."