FA Cup preliminary round: Radcliffe aiming high under ex-Premier League trio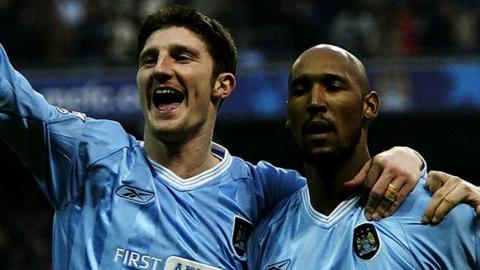 One scored a famous Manchester City goal to cap an extraordinary FA Cup win.
Another went all the way in 1997 and lifted the famous trophy at Wembley wearing the blue of Chelsea.
On Saturday, Jon Macken and Frank Sinclair will start this season's FA Cup in the preliminary round together as manager and assistant manager of Radcliffe, of the Northern Premier League.
Watching the tie at neighbours Prestwich Heys will be Arsenal FA Cup winner Kevin Campbell, who acts as an "advisor" to Radcliffe.
Sinclair, Campbell and Macken made 659 Premier League appearances between them and scored a combined 93 top-flight goals.
Now the trio hope their wealth of first-tier experience can propel the Lancashire club to the FA Cup first round proper for the first time since 2000.
'Manager jobs are limited - you have to start somewhere'
Manchester City made Macken their club record signing after paying Preston North End £5m for the striker in 2002.
Thirteen years on from his 43rd and final Premier League appearance for City, the 40-year-old is learning about life as a manager in the unforgiving eighth tier of English football.
"At this level you're always looking at what you can afford, looking to see if you can get a coach to take the team to a Saturday away game," said Macken, who played under the likes of Kevin Keegan at City, David Moyes at Preston and Neil Warnock at Crystal Palace.
Arguably his biggest moment during three years at City was heading the 90th-minute winner as Keegan's 10-man team came from 3-0 behind to win 4-3 at Tottenham in an FA Cup fourth-round replay in 2004.
"They'll talk about this game long after we are dead and gone," said Keegan after his side's incredible comeback at White Hart Lane.
Macken played alongside the likes of Nicolas Anelka and David Seaman at City, yet he is grateful to Radcliffe for giving him his first break in management - even if it is a world away from the riches of full-time football.
"I've always wanted to be a manager but opportunities are limited," added Macken, who was appointed last September. "You can't just walk into jobs that are nice and cushy.
"There are lots of people fighting for the same job. You have to start somewhere and make a name for yourself."
Having finished third from bottom in the table last season, there are signs Macken is learning fast.
'We want to do a Salford'
Radcliffe have started this season with back-to-back wins, their latest success being a 4-1 home triumph over Clitheroe on Tuesday.
Former Everton and Arsenal striker Campbell, who helped the Gunners win the FA Cup in 1993, was among those in the midweek crowd of 243 at Neuven Stadium in Radcliffe, which is between Bolton and Bury.
"Kevin is part of the ownership who have put some money into the club to try and improve it," said Sinclair, who was appointed by Macken after spells managing Colwyn Bay and Hednesford.
"We want to do what Salford City have done and climb through the leagues.
"Kevin has a big say on a lot of the football matters. We're fortunate to have someone with the professional background that Kevin has got and a vision of where he wants to take the club."
It is 21 years since Sinclair helped Ruud Gullit's Chelsea beat Middlesbrough 2-0 in the FA Cup final.
So how often does the 46-year-old look at his winner's medal?
"I'm not one for trophy cabinets," said the former Leicester and Burnley defender. "I've moved so many times that everything is boxed up in the loft."
'The Adie Moran derby'
Saturday's opponents Prestwich Heys play four miles down the road from Radcliffe at Adie Moran Park, named after the 10th-tier club's former player, manager and chairman.
Adie, whose non-league playing career also included a spell at Radcliffe, died in 2007 at the age of 43 after an accident on holiday in Sri Lanka.
"Adie was a real dynamo," said Heys secretary Scott White. "He was a driving force behind us getting back into the North West Counties League after we were demoted following a reorganisation."
While Radcliffe have a former player who went on to play in the Premier League in the shape of West Brom defender Craig Dawson, Heys used to have a player who went on to be an actor.
Manchester-born actor Jamie Lomas, who has appeared in EastEnders, Hollyoaks and Coronation Street, played in their midfield before pursuing a television career.