Manchester City documentary was not disrespectful - Pep Guardiola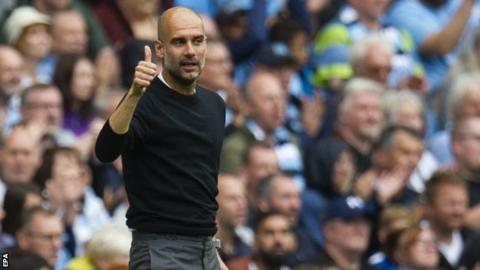 Manchester City were not "disrespectful" with their documentary despite criticism from Manchester United manager Jose Mourinho, says Blues boss Pep Guardiola.
Mourinho said "you cannot buy class" after City's £10m documentary All Or Nothing - focusing on last season's title win - was released this week.
"I think we lived an amazing season with cameras. We did it for ourselves," said Guardiola.
"It is Jose's opinion."
Mourinho, who admitted he has not seen the Amazon Prime show, said: "I think you can have a fantastic movie, respecting others. You don't need to be disrespectful."
But Guardiola, whose side beat Huddersfield 6-1 on Sunday, said: "I don't agree with Jose in terms of disrespectful. This was not our intention - it was filming last season.
"It is a club trying to grow, trying to win titles. We did it for ourselves and our fans to see what happens inside the locker room.
"Other guys will say 'we like' and other guys will say 'no'."