Gianluigi Buffon faces Marcus Thuram, son of former team-mate Lilian Thuram
Last updated on .From the section European Football20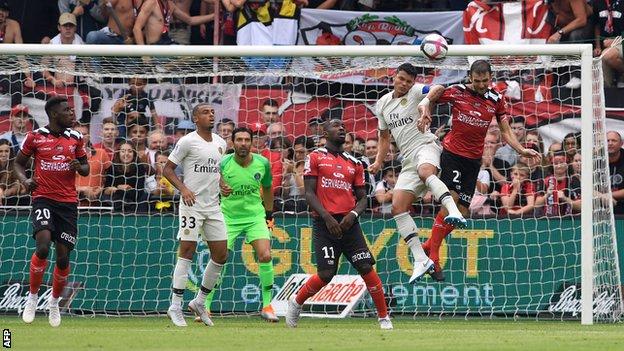 Gianluigi Buffon has been playing for so long he is now facing the sons of former team-mates.
The 40-year-old Italian faced Guingamp striker Marcus Thuram in Paris St-Germain's 3-1 win on Saturday and swapped shirts with the youngster at the end of the game.
The 21-year-old Frenchman is the son of World Cup winner Lilian, 46, who played in defence in front of Buffon at Parma from 1996 to 2001 and then later at Juventus from 2001-06.
Marcus was born in Parma in 1997, two years before Buffon and Lilian won the Coppa Italia and Uefa Cup there.
Buffon joined PSG in July on a free transfer after 17 years at Juventus and the Italian World Cup winner is now team-mates with the son of a former rival.
Timothy Weah, 18, is the son of ex-PSG and AC Milan forward George, now the president of Liberia.
George was playing for Milan against Parma on the day Buffon made his Serie A debut on 19 November 1995 at the age of 17 years and 295 days.
Now all that makes us feel old.