Jose Mourinho: Man Utd manager says Man City 'cannot buy class'
Last updated on .From the section Football1369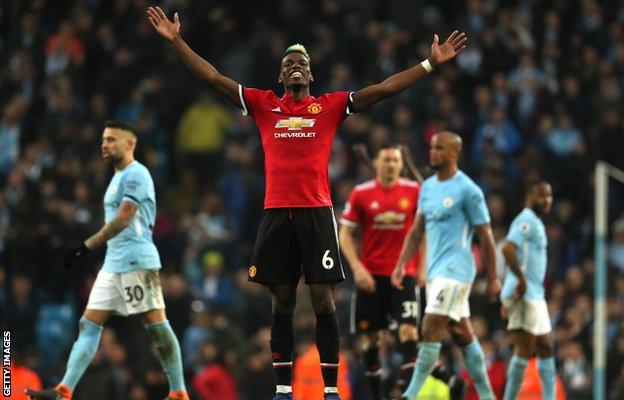 Premier League champions Manchester City are a "rich club" but "cannot buy class", says Manchester United manager Jose Mourinho.
Mourinho was responding to a question about City's £10m Amazon Prime documentary All Or Nothing, which was released earlier this week.
Pep Guardiola's side won last season's title with a record haul of 100 points.
Mourinho said: "I think you can have a fantastic movie, respecting others. You don't need to be disrespectful."
A film crew was given behind-the-scenes access - including to the dressing room - for an eight-part documentary about City.
Mourinho said: "I haven't seen it but I know a few things about the movie. My reaction is if you are a rich club you can buy top players, you cannot buy class. That is my first reaction.
"The second reaction is because I am in the movie, I could ask for some royalties."
The second episode shows City's record-breaking 14th Premier League victory in a row, secured with a 2-1 win over United at Old Trafford in December 2017.
Narrator, British actor Sir Ben Kingsley, describes it as "Guardiola versus Mourinho once more; possession versus defence; attacking football versus 'park the bus'".
Later in the season, City could have won the title by beating Mourinho's side at Etihad Stadium on 7 April and were 2-0 ahead at half-time - but their opponents turned the game around to win 3-2.
The hosts had printed souvenir T-shirts in the hope they would be crowned champions that day, but the celebrations were delayed by two weeks.
Mourinho added: "You know, a movie without me doesn't sell much. I needed to be there.
"But if they send me one of the shirts they had in the tunnel when we played there - the shirts that were saying 'we did it on derby day' - if they send me one of these shirts, I give up about the royalties."