Mauricio Pochettino: Tottenham boss frustrated at fringe players
Last updated on .From the section Tottenham147
Tottenham manager Mauricio Pochettino gave a five-minute answer when asked about the future of defender Toby Alderweireld - discussing the English origins of the game and comparing football to basketball.
Speaking after Spurs' 3-1 win over Fulham, Pochettino said he would not be "blackmailed" or "pressured" to include a player in his team.
Alderweireld, who was heavily linked with a move in the summer, played the full match while Danny Rose and Mousa Dembele, both also said to be available for transfer, were substitutes.
"Players that don't play need to wait until I am sacked or go elsewhere to find a solution," said Pochettino.
Alderweireld had been an unused substitute as Spurs began the new season with a 2-1 win at Newcastle, having helped Belgium finish third at the World Cup.
"I am so open if players want to leave, but if they are going to be here I want all commitment, if not we can find a solution," added Pochettino.
"I am so tired to talk about if some players aren't happy or some players want to leave. Of course every player if they don't play will be disappointed."
Spurs became the first Premier League club to not make a summer signing since the current transfer window system was adopted in 2003.
And Pochettino could still lose players to overseas clubs as the deadlines for Europe's other majors leagues are later in August.
'Why didn't the English people put 24 players on the pitch?'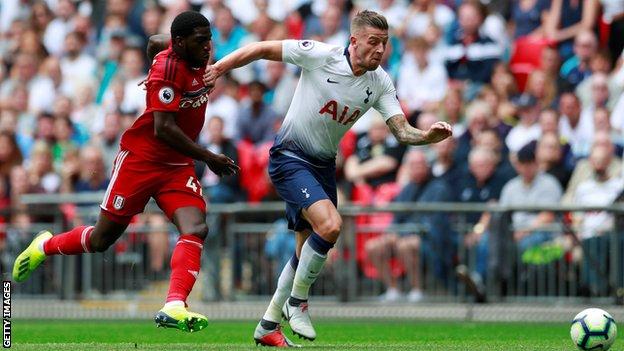 Pochettino first responded to questions about the victory over Fulham, as well as goalscorers Kieran Trippier and Harry Kane, with fairly standard answers.
But, when discussing the future of Alderweireld, he moved the conversation in an unexpected direction.
"You [England] created football and you create the rules," he said.
"Why didn't the English people in the past put 24 players on the pitch? Why is the squad 25 players if you can only play 11?
"Why not, like basketball, that you can change every minute? Why not like in Italy when you all can be on the bench and don't have a list of 18?"
Premier League clubs can register a squad of up to 25 players, with changes only possible during the summer or winter transfer windows, with 18 named for each match.
Trippier and Kane scored the key goals in the final 20 minutes for Tottenham after Fulham's Aleksandar Mitrovic had cancelled out Lucas Moura's first-half strike.