Chelsea 3-2 Arsenal: 'Chaotic classic exposes both sides' title limitations'
By Phil McNulty
BBC Sport chief football writer, at Stamford Bridge
Last updated on .From the section Premier League376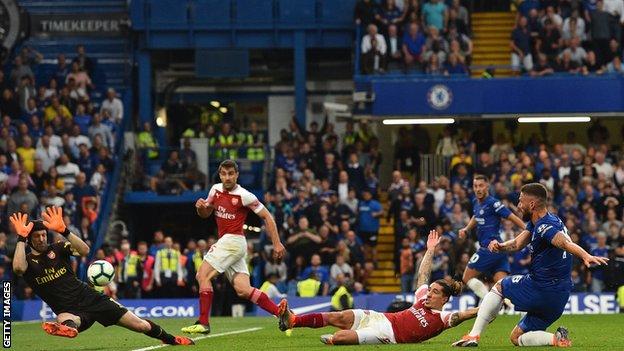 Chelsea and Arsenal contested a chaotic classic at Stamford Bridge on Saturday.
Their five-goal thriller, which the Blues won 3-2, provided constant entertainment - but also plenty of evidence that the best either of these teams can aim for in this season's Premier League is a top-four finish.
The shambolic manner in which both teams defended in the opening 45 minutes suggests it would be a stretch to pencil in either side as serious title contenders.
Former England defender Rio Ferdinand acknowledged as much when he said on BT Sport: "Neither team will be anywhere near winning the league because they just don't defend. You've got to have balance, both parts of the game."
Chelsea undoubtedly have real class and enough quality in their ranks to make a bid for the top four and a return to the Champions League, which has been their natural home for almost the entire Roman Abramovich era.
Arsenal are undergoing an understandable transition under Unai Emery after 22 years of Arsene Wenger's control, and their back four looked all over the place at times on Saturday. In some respects, a top-four finish would be a huge bonus as there will inevitably be some pain from such a seismic change in direction, philosophy and approach.
If they did mount a challenge for the top four in a league that also contains the two Manchester clubs, Liverpool and Tottenham, it would be quite an achievement by the Spaniard.
Expect excitement from Sarri and Emery
Irrespective of whether the title eludes Sarri and Emery, both have a style and approach that will bring character, colour and excitement to the Premier League.
And, on Saturday's evidence, the excitement will come at both ends of the pitch.
Sarri is a renowned advocate of fast, attacking football as he proved at Napoli, and it was certainly on show here as Chelsea carved out a host of chances once they had cleared their heads after Arsenal came from 2-0 to level at the break.
Jorginho is a top-class acquisition, while the success and importance of keeping Eden Hazard has already been emphasised by his impact as a substitute at Huddersfield Town and against Arsenal.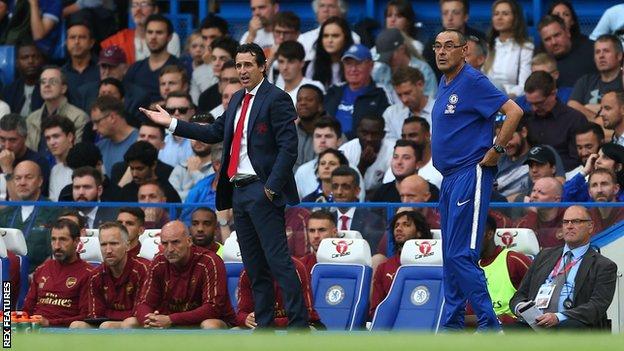 Sarri is committed to entertaining, progressive football, and watching Chelsea promises to bring plenty of fun this season.
Emery's jack-in-the-box antics in his technical area and his hands-on approach was quite the sight at Stamford Bridge, and his body language made it clear he does not expect his Arsenal team to take a backward step.
The new manager's desire to play a high defensive line and demand to play out from the back make for a high-risk strategy, especially given the current personnel does not seem to give him a natural fit, and remains a work in progress.
Emery, however, is a progressive coach and while there may be bad days ahead as well as good as Arsenal adjust, he seems determined to take a bold approach.
Chelsea have class to win silverware
Antonio Conte left Chelsea after winning the Premier League and FA Cup in his two seasons - confirmation there are unique demands at Stamford Bridge but also a winners' mentality among this group of players.
Kepa Arrizabalaga, replacing Thibaut Courtois in goal, will need time to adjust to the Premier League but there will be no such problems for a player of Jorginho's calibre.
Sarri is experienced and expansive as a coach, and it is already clear Chelsea's squad are enjoying his methods and style.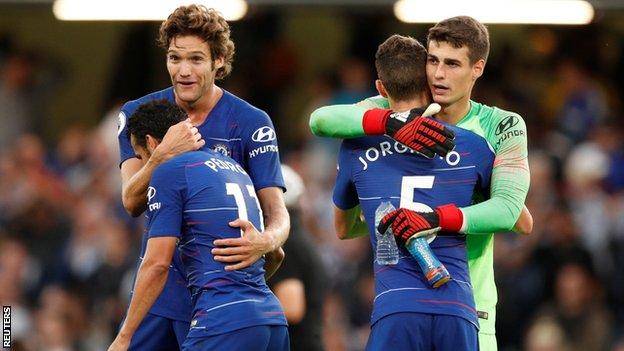 This is why Chelsea will almost certainly be in the reckoning for silverware again this season, although the shambolic defending we saw here, and the ease with which Arsenal carved them open in the first half, will be punished more heavily should it remain unaddressed.
Any side possessing quality such as Hazard, Jorginho and N'Golo Kante, in a more advanced role than we have seen previously, can be expected to be in the shake-up for silverware - and there is no reason to think Chelsea will not have a big chance of extending that winning streak in the cup competitions.
Emery faces huge task
Emery is not just taking on a new job at Arsenal - he is tasked with taking over from an institution whose personality and methods ran through every aspect of the club.
Emery has genuine pedigree from his three successive Europa League wins with Sevilla to titles with Paris St-Germain. Now he must use those qualities to renew Arsenal.
He deserves, and will get, plenty of time as the club knew what a crucial choice they were making when replacing Wenger.
Emery is also stepping in at a time when Arsenal's rivals in the so-called 'big six' look stronger and so much further down the line in their development.
He is not going to be able to sweep out bad habits and old failings in a matter of weeks so he deserves the time and patience Arsenal will give him and the supporters will also surely offer him their understanding.
His team gave the ball away too often here, are clearly still adjusting to the new approach and much work still needs to be done in the transfer windows to come - but there were also signs to encourage Emery.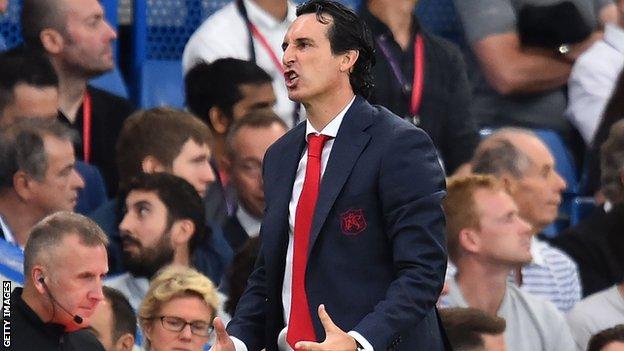 Yes, it was another damaging defeat against a close rival to leave them without a point from Emery's first two games, but there was also resilience and fight to come back and not become demoralised after going two down in 20 minutes.
Arsenal have collapsed on plenty of similar occasions in the past but there was no suggestion of that here, which hints Emery is already having an impact on his players.
Lucas Torreira will add a new dimension in midfield, and on other days the chances missed by Pierre-Emerick Aubameyang and others will be converted.
This is a managerial reign in its infancy. Emery will need all the time he can be assured Arsenal will give him.