Carolyn Radford: Football is 'full of dinosaurs' says Mansfield chief executive
Last updated on .From the section Football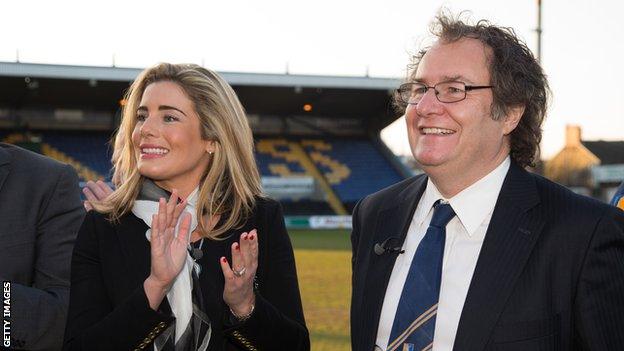 Football is "full of dinosaurs" says Mansfield Town chief Carolyn Radford, who claims she is patronised by other clubs' executives "all the time".
The 36-year-old, who has run the League Two club since 2011, was one of only seven female chief executives across the Premier League and EFL last season.
Radford, whose husband John is the club's chairman, says her appearance is often commented on in boardrooms.
"My points are equally valid," she said.
"When you walk into a room and someone's like, 'oh, you look gorgeous today' ... I don't think they'd say that to another man."
Speaking to BBC Radio 5 live's Wake Up To Money, Business of Sport, Radford says she has had to learn to let such remarks go "over her head".
She said: "I just think, 'OK, it's their problem, not mine'. But equally, is it preventing other women from getting involved in the sport, in the fact that I'm not standing up and saying actively: 'No, this isn't good enough'?
"If I go into a boardroom, a lot of the time I'll be talking to other chairmen of other football clubs or other executives at a high level and they'll choose to just smile if I say anything, and talk to my husband.
"Then we'll be coming home in the car and I think, 'What is this about? Why is our sport so full of dinosaurs?'"
Radford believes recent social media campaigns encouraging women to speak out about sexual harassment and abuse - such as the #MeToo campaign in the US - have made a difference.
"People are calling it out and saying it's not acceptable," she said.
"Beforehand I would just duck my head down and accept the abuse whereas now I'm actually saying: 'I'm not going to patronised by you, I'm equally able to do a good job.'"