All or Nothing: Five things we've learned from Man City documentary
Last updated on .From the section Football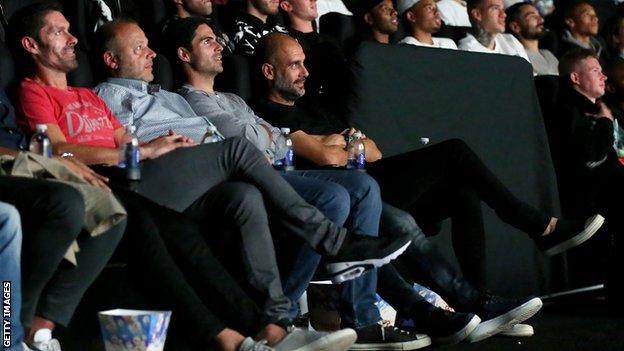 Manchester City's £10m documentary All or Nothing has been released, giving a behind-the-scenes look at the champions' record-breaking 2017-18 Premier League season.
An Amazon Prime Video film crew followed Pep Guardiola's side as they stormed their way to success, finishing the campaign with 100 points and scoring 106 goals.
The eight-part series was released on the streaming service on Friday.
Here are five things we learned from the first episode.
Guardiola's use of English swear words is a surprise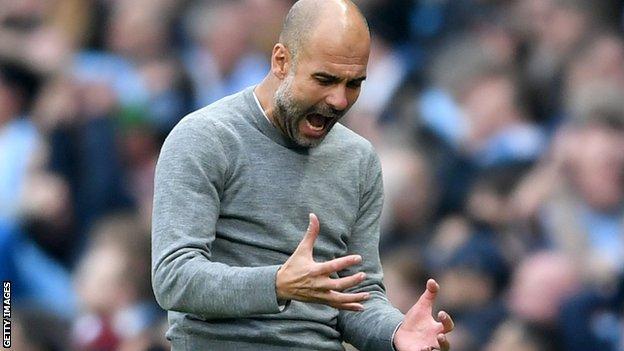 The episode begins with Guardiola giving a half-time team talk during the Carabao Cup final in February.
City lead Arsenal 1-0 and are within touching distance of their first trophy under him - but he is not a happy man.
As Guardiola paces frantically around the dressing room, his animated expressions are juxtaposed with shots of his players and coaching staff motionless and in silence.
"I know it is difficult guys, I know because you want to win. I know, but you have to learn how to play football with courage," Guardiola says, clapping his hands together before running back to his tactics board.
"The best thing about our season is that it doesn't matter where we were, because we play with character and courage.
"We have to show who we are. Don't arrive at the final and then don't do what we've done all season."
The lively 'Pep talk' sends a message to his players loud and clear.
His colourful language will perhaps come as a surprise to viewers, who are given a glimpse into the realities of a half-time team talk from which they are typically excluded.
"If you become a top, top, top, top, top team, you have to score the goals guys," the former Barcelona and Bayern Munich manager says in another clip.
We've omitted the 'F word' from both quotes - you may be able to guess where they slot in!
How victory over Liverpool was secured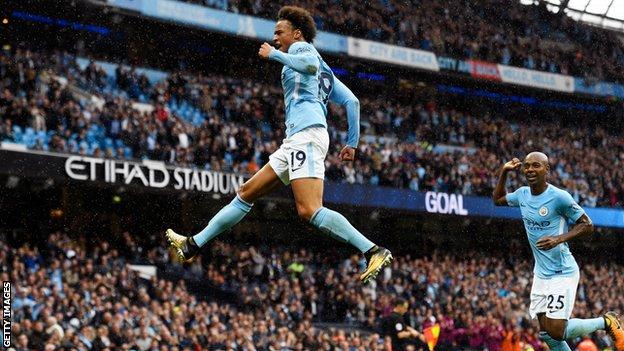 Guardiola likes a noisy dressing room before a match. "I feel that it animates the players more," he says.
City's home game against Premier League rivals Liverpool in September was no different.
Gathering the players in a cinema-type room with a tactics board and magnets to symbolise the players, the Spaniard demonstrates what he wants from his star-studded team.
Enthusiastically moving the magnets around the board, Guardiola explains what they must do to thwart Liverpool's similarly attacking style.
"Good afternoon guys. Today I'm going to explain what they do in attack. It's a team who is so good at running behind," he says, addressing his players in the manner of a lecturer teaching students.
"[Sadio] Mane and [Mohamed] Salah are so fast. Try to close the channel. Even when the full-back has to go, try and make the movement."
It worked. The eventual champions thumped the Reds 5-0.
Despite the dominant display, Guardiola says: "I don't have all the answers.
"Often when I don't know something, I act in front of the players as if I do. I do it so they believe I have the answers and that gives them the confidence to play.
"Sometimes they ask you about things in life, and then you must adopt the role of a father, brother and son."
The 'heart and soul of the dressing room'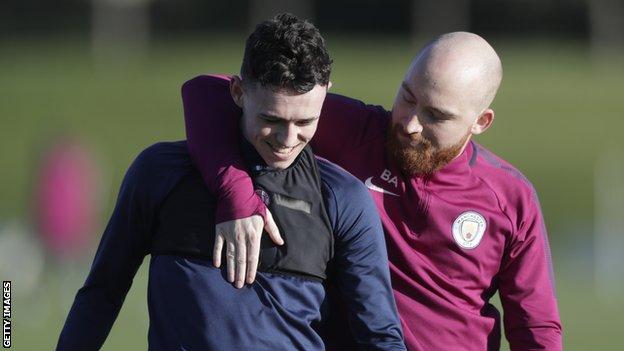 More often than not, it is the backroom staff taking care of the behind-the-scenes logistics at a football club who can really make a difference.
Kitman Brandon Ashton is clearly among those at City. He is seen joking around with the players on the training ground, and dancing on a massage table with his arms waving.
"Brandon is kind of the heart and soul of the dressing room really," says captain Vincent Kompany. "He has this ability to take pressure off."
"I would say the players are more close to the kitman and the physio," midfielder Kevin de Bruyne adds.
"I'm very good with him, since day one. Sometimes, for me, it's nice to be with someone who's not a football person."
The sadness of Mendy's injury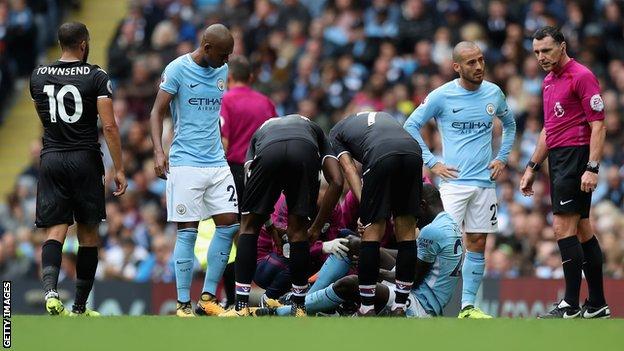 City made Benjamin Mendy - described as their "number one target" - the world's most expensive defender last summer by signing him from Monaco for £52m.
Described as a "special" player by former team-mate Yaya Toure, the left-back was injured in just his fifth appearance - a 5-0 win over Crystal Palace in September.
The documentary shows first-hand footage of Mendy's diagnosis in Barcelona, where he is dealt a devastating blow as he is told he has ruptured the anterior cruciate ligament in his right knee.
"There's been a hard blow to the bone," says Dr Ramon Cugat, consultant surgeon and traumatologist. "It's gone 'boom!' Detached."
Midfielder David Silva says: "We've lost a team-mate for a substantial part of the season.
"It's a shame that he's going through all of that, having just arrived at the club."
Guardiola's assistant coach Mikel Arteta adds: "You always have plans, but whether or not you can stick to that plan is not your choice.
"It's a big problem because we don't have a natural replacement in that position."
Mendy was sidelined for almost seven months, returning to action in April.
Why the early season win over Chelsea meant so much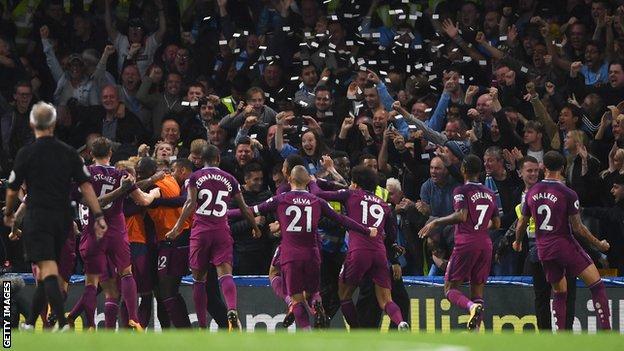 City broke several records in 2017-18, including reaching 100 points, winning 32 matches and scoring 106 goals.
Among their most important victories was an early triumph at defending champions Chelsea.
Guardiola says: "The greats are capable of going anywhere, and making the other team think, from the first minute, 'these guys have come here to win'."
The players burst jubilantly back into the away dressing room, clapping, dancing, chanting and cheering following a 1-0 win at Stamford Bridge.
The atmosphere is electric, and it's clear just what the victory means to the eventual champions.