Eniola Aluko: Juventus 'ambition' and immersive Turin culture excites forward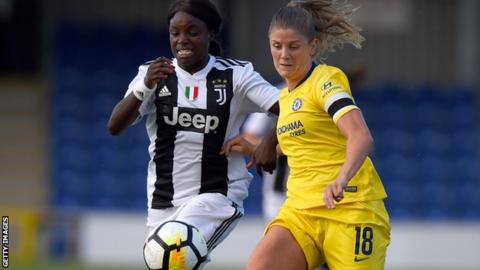 "The fact Cristiano Ronaldo feels he can progress his career here just shows the club's stature in world football, and I very much feel the same."
After nearly six years at Chelsea, Eniola Aluko already felt "the timing was right" for her move to Italian giants Juventus, several weeks before Ronaldo made his switch from Real Madrid for 112m euros.
And Aluko, capped 102 times by England, is enjoying being out of her comfort zone as she attempts to embrace a new language and culture among Turin's grand piazzas, baroque architecture and snow-topped mountain backdrop.
The city that was once a powerhouse of the European manufacturing industry is hoping to build one of the continent's dominant women's teams, having formed their side in 2017.
After lifting the Serie A title in their inaugural season, the 'Old Lady' have signed two of England's bronze medal-winning squad from the 2015 World Cup in forwards Aluko and Lianne Sanderson. Aluko believes they can be one of Europe's top clubs within two years.
"I'm absolutely loving Turin's old, historical-city vibe, with the narrow, cobbled streets. I made sure I got an apartment that felt very Italian as well, so I already feel very immersed in the culture," Aluko told BBC Sport.
"It's been great to just feel out of my comfort zone, in terms of language. I'm trying to speak it every day and become fluent in Italian.
"But ultimately it's about winning. All over the world people know Juventus as a club affiliated with legends and success and the project with the women's side is very ambitious."
'I wanted to leave Chelsea on a high'
Former Birmingham City and Charlton forward Aluko was described by Chelsea as "one of their team's greats" when she left in May, following a season in which her first-team playing time was reduced.
The 31-year-old helped Emma Hayes' side win five major trophies, including last season's domestic double, as well as reaching a Women's Champions League semi-final.
Aluko was involved in a discrimination case against Mark Sampson in 2017, with the Football Association apologising in October for racially discriminatory remarks made to her by the then-England boss in 2014.
Sampson was later sacked for "inappropriate and unacceptable" behaviour with female players in a previous role, but Aluko - a European finalist with England in 2009 - has not played for her country since 2016.
In January, interest from French club Paris St-Germain emerged, and then Juventus called after Chelsea beat Arsenal in May's Women's FA Cup final.
"Juventus offered me the opportunity to sign in 2017 and I turned it down," Aluko added. "I just didn't feel the timing was right.
"But when they came back again for this season, the timing was right. I really wanted to leave Chelsea on a high.
"I spoke to clubs in Germany and France as well and I just wanted to figure out where I'd be best suited in terms of the culture, the team and the journey.
"I think Juventus in the next two years will be one of the top clubs in Europe, attracting the top players in Europe. I feel lucky to be part of that now.
"At Chelsea, we won five trophies in six years - it takes a long time. The 'journey' part of this and the building process is really exciting for me. I wouldn't be interested in going to a club and just rocking up and winning trophies in that way."
Juventus will make their Champions League bow in September and have been drawn to face Danish side Brondby in the round of 32.
But on top of the chance to play in Europe's elite club competition, it was Juventus' compassionate treatment towards an old team-mate of Aluko's that convinced her to join.
Former Arsenal stalwart Sanderson, 30, was unattached last winter and trying to recover from a serious knee injury when Juventus welcomed her in for rehabilitation, before she signed a deal in July.
"There aren't a lot of clubs around the world who would take on a injured player like her and rehab her like they did with their men's team's physios," Aluko said.
"They showed a lot of faith in an injured player. That really impressed me and was really a big factor in helping me understand how they treat footballers.
"There are a lot of football clubs that are fantastic football clubs but how they treat footballers is another story. So that was a huge factor for me in understanding what this club is about."