Dave Diaper: Sholing FC manager reaches 1,000 games in charge of non-league club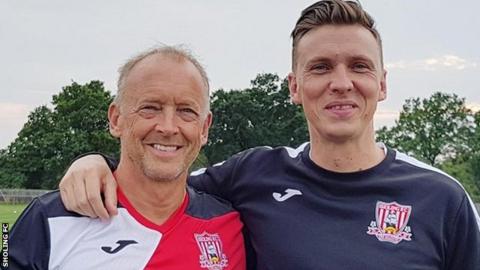 Not many managers can boast taking charge of 1,000 games at the same club and probably only a few can back that feat up with a win ratio better than Sir Alex Ferguson.
But as Dave Diaper took charge of a landmark fixture in his managerial tenure of Hampshire non-league club Sholing on Tuesday, those two factors came to pass.
Diaper, an FA Vase winner in 2014, has overseen victories in 65% of his 1,000 matches in charge of The Boatmen and points to former Manchester United boss Ferguson's once rival, ex-Arsenal manager Arsene Wenger, as his inspiration.
"It's tended to happen without me being too aware of it to be honest as I've just focused on every game the same," the 63-year-old told BBC Sport.
"If you start notching games on your belt so to say, you tend to get too involved in it."
Jack of all trades
The father of two, a company director when not plotting his club's campaign in the Wessex League, has not only managed Sholing but also tried his hands at several other roles.
Taking money at the turnstiles, stewarding in the car park and even pulling pints in the clubhouse feature on Diaper's CV since 1999.
"Management is fine, but you need the backing at every level," he said.
"Running my own business, I know the importance of securing sponsors and looking for funding as you go through the leagues.
"I've tried to do a range of jobs, so that when it comes to recruitment, I know what's required at the club. I'm constantly in the picture over what's needed both on and off the pitch."
Knowing your shelf life
Even having taken a three-month hiatus as Sholing manager back in 2014, Diaper joins a number of other non-league managers to have reached the 1,000-match landmark at the same club.
Folkestone Invicta's Neil Cugley and Wealdstone's former manager Gordon Bartlett are a couple to have done so in recent history.
But Diaper continues to look back at Wenger's long-term Arsenal tenure as his inspiration.
"It's all about constant progression," he said. "Anyone you can look at and pick things up from is a role model as such.
"But I read comments recently that Wenger felt he stayed at Arsenal too long. That time will come and, in football, you know when that is.
"You might be kidding yourself, but you know. As soon as I start having doubts, I'll do what's right for me and the club."
Despite that talk, Diaper's passion and hunger to take Sholing up the non-league pyramid remains as strong as the day he led them to their FA Vase triumph at Wembley against West Auckland.
But his evolution as a manager will continue.
"I'm very mindful you've got to make your team talks much better and varied than what's gone before," he said.
"I'm always trying to add different things to them, otherwise people will switch off after 10 seconds. You've got to make it varied, very factual and to the point.
"My main thing in man-management is being honest. You've got to be honest with the players and hopefully you'll get their respect and the results.
"You've got to try to test yourself all the time and that's what we look to do at Sholing."