Kevin de Bruyne: Man City midfielder on Pep Guardiola, the Champions League and more
Last updated on .From the section Man City
Manchester City "will never have a season like last year" as they attempt to become the first Premier League champions since 2009 to retain the title, says midfielder Kevin de Bruyne.
City broke several records in 2017-18, including reaching 100 points, winning 32 matches and scoring 106 goals.
"Last year was almost perfect," said De Bruyne, 27, who joined City in 2015.
"If we are going to be champions on the last day, the last kick of the season, then I am also going to be happy."
City's record-breaking campaign was captured in unprecedented detail by an Amazon Prime Video film crew, with the documentary series All or Nothing to be released on the streaming service on Friday, 17 August.
In a wide-ranging interview with the BBC's Dan Walker, which can be seen on Football Focus on Saturday from 12:00 BST, City's player of the year De Bruyne discussed:
What it was like for the City squad to be filmed daily by the film crew.

How manager Pep Guardiola gets the best from his players.

Whether he will go into coaching at the end of his career.

Whether City need to win the Champions League to be considered a great side.
'As real as possible'
City signed a £10m deal with Amazon last year to film the series. They are the first Premier League club to commission such an in-depth documentary - which will consist of eight hour-long episodes - but Amazon have already made similar shows with three NFL teams, and the New Zealand All Blacks. Cameras followed City's players on and off the pitch, including filming at half-time.
"In the beginning it was a little bit awkward," said De Bruyne.
"We are used to getting a lot of camera attention but mostly on the pitch. Behind the scenes, in training, there is not normally anything apart from the stuff that City themselves do.
"In the beginning it was a bit weird as you don't know the people you are working with but then after time you forget they are there. They are there every single day, you get to know them and it becomes familiar.
"This programme you have to show it as real as possible. The good things, the bad things, maybe incidents, whatever. A life of anybody is not perfect, there is always things that happen and that is what makes it interesting."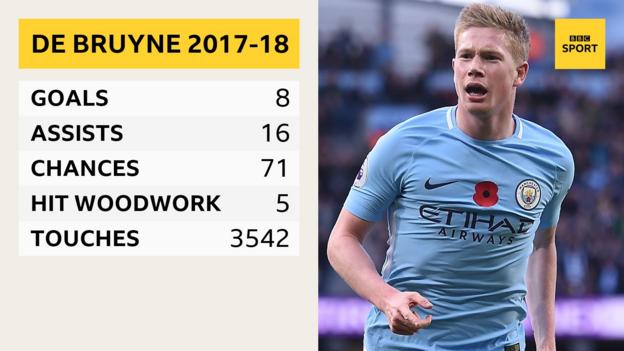 'We are on the same wavelength'
The trailer for the series shows Guardiola demanding his players show desire to win in every training session, as well as telling them to hate him if it makes them play better. De Bruyne says he is not afraid to argue with the former Barcelona and Bayern Munich boss if necessary.
"Pep has different relationships with everyone. I am lucky that I like to play the way already that he implemented so it was an easier transition, more natural.
"That is how I prefer to play football, we are on the same wavelength. In the end it's a lot of hard work but if it's fun then it's good. Pep can be intense.
"In the end sometimes it can be an overload [of information from him] but every person in life has that when they are at work. We cope with it fine."
[Do you ever argue with Pep?] "I would do that. But to be fair it has not been happening a lot. Maybe one or two think something different but you need to discuss it. Everyone has their own view on football and I am already lucky that a lot of the time I think the same as him. For me it is easy.
"You don't have to shout at him, you talk like an adult, you are both people who came here to win as a team. If you explain what you are thinking then there is no problem."
'I have grown to be a leader'
Walker says one of the themes of the series is De Bruyne and Vincent Kompany being vocal leaders in the dressing room. During the FA Cup defeat at Wigan, De Bruyne took Leroy Sane to one side to console him and explain why he had been replaced by Guardiola after Fabian Delph's first-half red card.
"At the time Sane was angry that he had been substituted. I remember that he showed it a bit and Pep wasn't happy with that. In the end I told him: 'It's all right, it's not because you are bad, it's for tactical reasons and you are going to play so many games. Don't show it too much.'
"Sometimes some managers would take that very badly. I did it when I was young. I told Leroy he is going to play another 30 or 40 games and win a lot of games for us.
"I have grown into it, being a leader. When I came here I was not the player that I am now, I did not have the same view. I came from Germany, I didn't succeed before in England [with Chelsea.]
"When you do well, you train hard, you work hard, you get more leadership on the field. I try to do everything in my power to win the game. I am more relaxed than Vinny but I try to do everything to win."
'Being a coach is ruthless'
De Bruyne played a key role in guiding Belgium to the World Cup semi-finals in the summer. But could the midfielder move into coaching in the future?
"I don't know. I have thought about it, sometimes I think I could, sometimes I can't. It is the same lifestyle as being a player now, always being away from your family, even more because you make longer hours than a player.
"I'm luckily not yet at this stage of my career. The older you get, the more you start thinking about what you want to do with your life, what to pursue after football. But I am still hoping to get another seven or eight years at a good level.
"It's tough, it's ruthless. When you are the boss you need to sometimes disappoint people, take tough decisions. You have to be ready for that.
"As a player you can be good with the manager but there is always a distance between the manager and a player because he is the boss and he decides if you play or not. Sometimes it is ruthless."
'We don't have to win the Champions League'
In the decade since City were taken over by the Abu Dhabi United Group they have won the Premier League three times - but not progressed beyond the semi-finals of the Champions League. Last season, despite winning the Premier League by 19 points, they were beaten 5-1 by Liverpool in the quarter-finals. But De Bruyne believes the consistency needed to win the league means Guardiola's side do not need to take an extra step to be a top team.
"I don't agree that we have to win the Champions League to be a success. It is a big title to win but in the Champions League you don't need to have the consistency that you need in the league.
"We were great for the whole year, maybe a bit less against Liverpool, and so we were out. It is a tournament, you need to be good at the right time.
"In the league if you have a bad spell then you are running behind. It is a different prospect, cup games are different to a league."
'The top six is always challenging'
As well as beating City twice in the Champions League, Liverpool were one of only two teams to beat City in the Premier League. Having spent big on goalkeeper Alisson and midfielder Naby Keita this summer, many are picking Jurgen Klopp's side to be City's main challengers this year. But what does De Bruyne think?
"The main focus is on us. The other teams are always going to push us, Liverpool did what we did last year. They have spent a lot of money but wisely.
"They needed some additions and they have got them in the right places. They saw that they had to up the level to come closer to us and we are trying to maintain what we have done last year. It will be a good battle between the top sides.
"The top six is always challenging. I don't make a difference between any team. Liverpool spent the most this year, but last year it was us and Manchester United. Now there are other teams in the Premier League who spend more than us, they have to do what they have to do to be better."
Watch the full interview with Kevin de Bruyne on Football Focus, Saturday 12:00 BST, BBC One and online