Petr Cech: Arsenal goalkeeper calls Bayer Leverkusen 'sad' after tweet
Last updated on .From the section Arsenal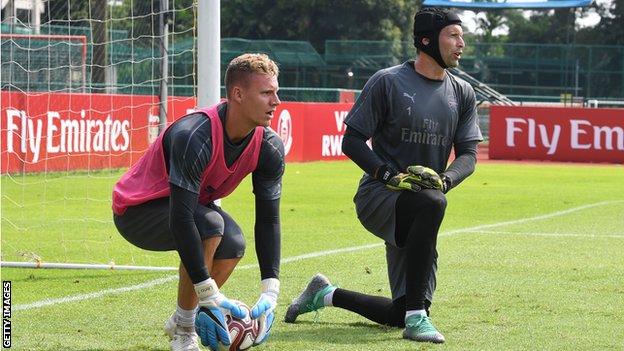 Arsenal goalkeeper Petr Cech called Bayer Leverkusen "sad" after the German side appeared to mock him on Twitter.
He started ahead of summer signing Bernd Leno, who joined from Leverkusen.
The Bundesliga side posted a message showing the incident titled "we might know a guy..." followed by a clip of their former goalkeeper.
Sunday's match was Arsenal's first competitive fixture under new manager Unai Emery.
Cech, who said after the game he is comfortable with his ability when it comes to helping the team build from the back, replied to Leverkusen on Twitter.
"At Arsenal we share important values which make us a big club not only on the football side," he wrote.
"Fair competition, professionalism and sportsmanship are the biggest ones you teach young footballers and it's sad to see when other clubs don't share the same values."
Leverkusen replied to Cech, insisting the original tweet was a "joke" and praising him for his performance.
"Hi Petr. It seems our joke about wanting to see Leno, our former player, in action has been taken a bit more harshly/personally than intended. It was only a bit of banter. We're all for the values you've stated and wish you and your big club all the best. Nice 1v1 save on Aguero," it read.
'He looked absolutely petrified'
Former Arsenal forward Ian Wright, speaking on BBC Radio 5 live's Monday Night Club, said: "I was watching the match on Sunday and I saw a goalkeeper who looked absolutely petrified every time the ball went back to him.
"I actually screamed when he nearly scored an own goal. We are trying to play out from the back and our goalie nearly scores. That's not what we want. The fact is, you have to laugh, the fans were screaming 'just kick it out'.
"Maybe starting to play like that against one of the best teams in Europe was a bad idea."
Former Blackburn and Chelsea striker Chris Sutton said: "I think it was a big call picking Cech over Leno. They spent £20m on a goalkeeper and he's going to sit on the bench?
"I don't think Cech had a good season last season so I think it's a risk if Arsenal are going to play like that. If Unai Emery is going to back Cech as his number one, I'm not so sure he's got that right."