QPR need to leave Loftus Road for new stadium, says chief executive Lee Hoos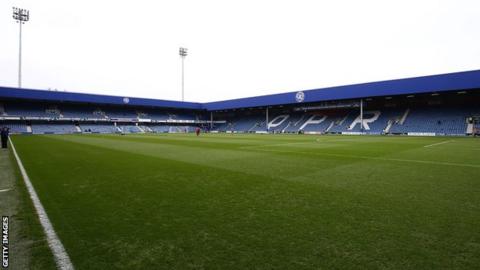 Queens Park Rangers need to leave Loftus Road for a new stadium so they can increase revenue, according to chief executive Lee Hoos.
The Championship club have played at the 18,439-capacity stadium since 1917.
"One of my remits when I came here was to try to create a sustainable business case for the club and we really can't do that at Loftus Road," he told BBC Sport.
"In order for us to compete I have to be able to get the revenue streams in."
He continued: "Do we need to move? Absolutely.
"We will have to move at some point in the future to make this a sustainable club. Where we move to is a separate question."
Wormwood Scrubs move for Rangers?
Hoos, who joined QPR in 2015 following spells at Southampton, Leicester and Burnley, says redevelopment of Loftus Road is a "non-starter" because of the lack of available land around the stadium.
In December 2013, Rangers announced plans to build a 40,000-seater stadium at Old Oak Common, in conjunction with a proposal for the construction of up to 24,000 new homes and a railway station.
However, that project stalled because land in the area is owned by car dealership Cargiant, and Hoos cannot see those plans progressing.
Rangers are now looking at the logistics of a possible redevelopment of the Linford Christie Stadium athletics venue, about a mile north of Loftus Road, which is currently run by the London Borough of Hammersmith & Fulham.
But Hoos admitted the site, which is on the edge of Wormwood Scrubs Park, is "very complex" because of the number of stakeholders involved.
"Whether that comes to fruition or not, I don't know," he said.
"It is not just up to us and there would be a lot of consultations that have to happen that we are trying to work on; it would have to be us, the council, local residents, the Ministry of Defence, Friends of Wormwood Scrubs and a charitable commission.
"Everybody needs to get their heads together and come up with something that benefits the community, takes the financial weight off the council and generates a sustainable football club."