Egli Kaja backs Livingston to stay up and praises boss Kenny Miller

By Jonathan Sutherland
BBC Scotland
Last updated on .From the section Livingston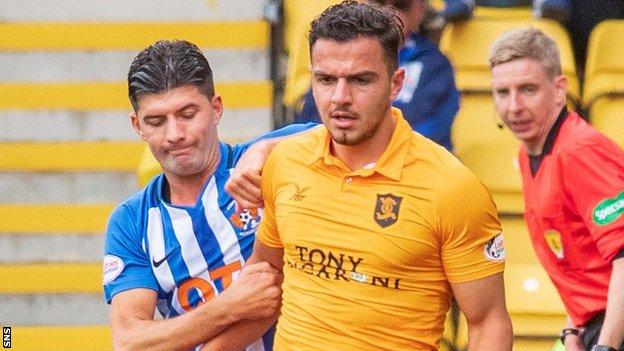 Livingston winger Egli Kaja is convinced the club will survive in the Scottish Premiership this season.
The West Lothian club worked hard to earn their first point of the season in Saturday's 0-0 draw at home to Kilmarnock.
Kaja, 21, has arrived on loan from AFC Wimbledon and has been impressed by the calibre of his new team-mates.
"I think we will definitely stay up. I feel confident in the boys, the team and the staff," Kaja told BBC Scotland.
"I think the boys are a very good level, I've seen it in training. I think we have got a good enough squad to stay up this season."
Albanian Kaja has also been impressed with player-manager Kenny Miller and believes the team will benefit from the former Scotland striker's presence on the field.
"I feel like he's still a player and he gets it," Kaja said.
"I feel with Kenny he gets the man management, so when I talk to him, he talks to me - he doesn't scream and shout - he talks to you as a player because he knows what it's like and he gives you the confidence to play. I've really noticed that.
"Of course, at first, I thought it was a bit strange, the manager on the pitch playing with me.
"But I like it. I feel he understands the boys more because he's on the pitch at the same time, he feels what the boys are feeling. So I think that will work into a positive this season."
However, Kaja is still to be fully won over by the new Livingston pitch. The new surface was covered in black rubber pellets that got everywhere during Saturday's contest.
"I found loads today, I found a couple in my eyes," he explained.
"It is hard on a 4G pitch, it's quite slow. But I think, if they water the pitch a little bit, we will get used to it, so it will be okay."