Player welfare: How big a problem is football facing? And what is being done?

By Dan Roan
BBC sports editor
Last updated on .From the section Football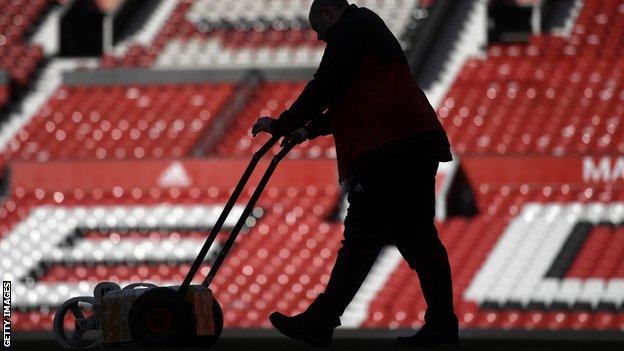 The sense of anticipation at the start of a new football season is a familiar one, with so much about to unfold.
And as ever, there seems to be as much at stake off the pitch as there is on it.
For those in charge of English football, the next few months are crucial; decisions on the potential sale of Wembley and whether to bid to host the 2030 World Cup, further trials of VAR, a review on safe-standing, the appointment of a replacement for outgoing Premier League supremo Richard Scudamore and devising new regulations for agents.
Potentially most significant of all however, will be the findings of the Football Association's independent inquiry into the historical child sex abuse scandal. Due to be published in the autumn, barrister Clive Sheldon's report will highlight the failings that enabled abusers to prey on children in youth football in the past.
The subject of Sheldon's long investigation is the most obvious example of an area of the game that is now in sharper focus than ever before; player welfare.
This is a very broad issue, incorporating everything from safeguarding, anti-discrimination, duty of care towards academy trainees and those rejected by academies, through to mental health and the management of head trauma and other injuries.
Progress is being made in several of these areas. Sheldon will give the FA a list of recommendations designed to strengthen protocols to protect youngsters in the game.
After years of delay, the FA and Professional Footballers' Association have jointly funded research into the links between heading and dementia. The FA has committed to introducing a new whistle-blowing policy in the wake of the controversy that saw Mark Sampson sacked as England women's manager following evidence of "inappropriate and unacceptable" behaviour with female players.
And awareness of mental health issues in the sport has also been raised by high-profile players like Aaron Lennon and Danny Rose speaking out about the depression they have suffered.
But many believe much more still needs to happen.
Until now, the challenge of athlete welfare has been more closely associated with Britain's Olympic and Paralympic sports, with a spate of bullying scandals. With concern over whether its 'no compromise' approach had created a 'win at all costs' mentality, funding agency UK Sport vowed to improve its culture, and beef up the British Athletes' Commission.
But it is increasingly clear that football is not immune from such concerns.
In the past two years there have been high-profile allegations of bullying at the academies of Arsenal and Newcastle United.
And the Telegraph reported that Aston Villa were ordered to make "sweeping and vigorous" changes to welfare protection for academy players after a Premier League inquiry found "evidence of bullying, aggressive behaviour and unacceptable language" by an under-23 coach.
Meanwhile, a study by the Guardian last year highlighted mental health problems suffered by young men in academies, particularly after they were released.
In July, the Scottish Football Association had to apologise after a review found that despite recent progress, child protection measures were still "not fit for purpose", and that "negative and harmful attitudes" were still making it difficult for victims to come forward.
It demanded "a sea change" in the sport's culture, saying that the "paramount" concern must become children's welfare, rather than the reputation of clubs or individuals, and highlighted a stigma around mental health.
So how big a problem does football still have when it comes to the welfare of players?
"Football is nowhere near proactive enough," says Peter Lowe - former head of education at Manchester City and now director of PlayersNet, an independent, not-for-profit organisation that helps players, parents, club staff and volunteers with a variety of welfare issues.
"We have to get to a point where everyone in the game believes that duty of care is the responsibility of all - and not just the clubs' welfare officers. The sport is really happy to spend big at the top, such as business in the transfer market, but not always at the lower levels of the structure, and yet the results of poor practice can be catastrophic for brand and image."
PlayersNet is now in talks with the FA about expanding the role it can play in the game.
"The FA's safeguarding department does a fantastic job, but who deals with the needs of players or parents outside of that area?" asks Lowe.
"For example, we act as an intermediary, providing advice to parents whose child does not know how to manage the aspirations of his coach, or on the relationship between them and an agent."
Tootoot Sport is a new digital duty of care listening app, first used in the education sector, that allows players to report any concerns - and anonymously if preferred - directly to club welfare officers.
"A huge learning for us was that bullying, child abuse, racism and other welfare issues don't just happen in school," says founder Michael Brennan.
"With over 150,000 sports clubs in the UK there is a demonstrable lack of awareness on how kids can report concerns. We now work with the Junior Premier League [10,000 members and 550 teams], Crystal Palace and Huddersfield to name but a few.
Since launching their sport app this year, Tootoot says 162 different incidents have been recorded via its platform across 28 categories of welfare issues; with 15% of them deemed "very serious/sensitive".
Blackpool are one of Tootoot's clients. "Feedback from parents is very positive," says Will Cowell, the club's safeguarding officer.
"Some say they feel more comfortable knowing that their child can report any concerns instantly and receive feedback almost immediately.
"We have been using this since March and have a plan to roll it out across our academy, scholars and the first team."
With his latest book 'State of Play' taking a close look at these issues, award-winning author and sports journalist Michael Calvin says football now has an opportunity to re-align its social policy.
"There's this sense that football has a train coming towards it," he says.
"Whether it's failure to inform and protect players over head injuries, or allegations of racism from the past, football is not far away from being hit with a major class-action lawsuit.
"Welfare is this unspoken issue that everyone knows about, but football lacks the continuity of purpose to address it.
"I was talking to a club owner who told me about a young player who'd been tapped up and he was being screamed at by his agent, he was under pressure from the owner, and also from the other club that wanted him. He was like a piece of jelly, such was the mental strain."
Calvin believes improvements can be made, if an independent organisation like PlayersNet can be brought more into the game, and perform a similar role to anti-discrimination body Kick It Out - which is about to celebrate its 25th anniversary.
"There are signs of hope and progress," Football is glacial when it comes to effecting meaningful change in the system. But for the first time in a while there is now a will to engage with independent entities.
"Players and their families don't always feel they can talk to their clubs. But they talk to these organisations. There is a degree of trust there that football has mitigated against."
Football is already doing work in this area of course.
The PFA says it has been addressing issues of emotional wellbeing and addiction for 14 years, and members can access a counselling helpline, a national network of counsellors and residential rehabilitation at the Sporting Chance Clinic.
As part of its Elite Player Performance Plan (EPPP) the Premier League says its education department is delivering a programme to support the mental, lifestyle and welfare development of all academy players. Each club has a full-time head of safeguarding.
It is telling however, that when asked whether player welfare is enough of a priority, the FA chooses not to comment, insisting this is a topic for the clubs and leagues.
As the season gets back under way, and the focus returns to competition, some will ask whether football could - and should - be doing more when it comes to duty of care.