Aston Villa: John McGinn and Steve Bruce 'a match made in heaven' - Alan Stubbs
Last updated on .From the section Aston Villa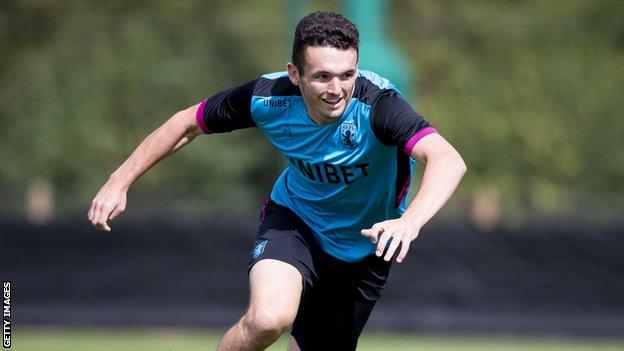 New Aston Villa signing John McGinn and manager Steve Bruce are a "match made in heaven", according to the midfielder's former boss, Alan Stubbs.
McGinn joined Villa for a reported fee of £2.75m from Hibernian.
"He's got all the attributes to be a real success at Aston Villa," Stubbs told BBC Scotland's Sportsound.
"I think he's an absolute steal. If John McGinn was playing in League One and he was getting a move, you would probably be talking over £10m."
Celtic had bids rejected for McGinn before matching Villa's offer and Stubbs believes that the Scotland midfielder had "been torn" between the two.
"I'm not too sure if it was a financial decision," he said. "I think, when you've got two great clubs vying for your services, John was going to get well paid at both.
"He's just chose Aston Villa as his next destination to do well.
"He had a real massive decision to make and he's spoken to a lot of people about it."
'A class act on and off pitch'
Stubbs was full of praise for the player he signed for Hibs from his current club, St Mirren, in 2015 just as he was about to sign for Owen Coyle at Houston Dynamo.
"From the beginning when he signed to the day he left, he's just been a class act both on and off the pitch," he said.
"He was a pleasure to coach and to manage and he's gone from strength to strength.
"Every time there's been a question asked of him, or there's been demands put on him, he's rose to the occasion and, for me, that's the sign of a top player.
"He's got all the attributes to be a real success at Aston Villa - not just his use of the ball but his use of his body, using his backside and his leg strength is so strong.
"You need that dynamism when you are going down to England when you are coming up against a lot of big, physical players."
Stubbs revealed that McGinn had called to thank him after he signed for Villa.
"I told him to thank himself," he said before comparing the Scotland midfielder's impact on games to Steven Gerrard's at Liverpool.
"Technically, he's got better, his overall game has got better, he's become more physically mature in terms of how to manage the game, he's stronger, more powerful, he has more intelligence as a footballer on the pitch and there's not very many players that can dictate the game or pick the game up by the scruff of the neck.
"It's a great move for him, he's with a great manager in 'Brucie' and they are a match made in heaven."