Bobby Williamson takes on Kenya Football Federation after beating cancer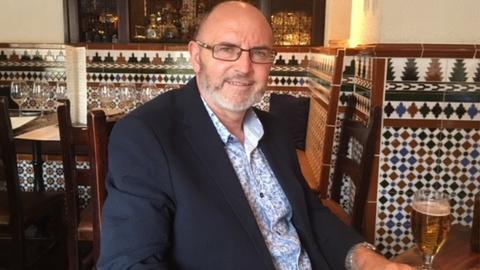 Bobby Williamson looks to have won his battle with cancer, but his fight to receive "a substantial amount" of money from the Kenya Football Federation is proving even more lengthy.
The 56-year-old former Hibernian and Kilmarnock manager, who was diagnosed with cancerous cells in his nasal cavity almost a year ago, was Kenya's national coach for two years until 2016.
And he is considering taking his quest for what he says is money owed to world football's governing body.
"If I go to Fifa, they might suspend them," Williamson told BBC Scotland. "Hopefully it won't come to that and they'll see the right way ahead."
Williamson was given the news that he was in remission earlier this month by email while he was on holiday in Scotland.
Now he is turning his attention to resolving outstanding financial football matters in the country he now calls home.
"We've got a hearing next month," he said. "If I don't get any satisfaction from that then I'll take it to Fifa.
"I don't really want to go down that road as I live in Kenya, I still love the country and I want the football team to be successful.
"But it's a substantial amount I'm due and that's why I will dispute it."
Disappointed in League Managers Association
Williamson had hoped he would have the backing of the League Managers Association but has had to employ his own legal representative.
"I've been disappointed in the LMA," he said. "They say it's different for coaches working abroad and I wasn't aware of that.
"I've been working in Africa for 10 years and I've still been paying my dues and yet, when I really need them, I don't think they've been there for me."
It is the second time Williamson has found himself in a financial dispute with employers in the east African country.
Williamson, who lives in Kenya with his wife, Michelle, and five-year-old daughter Saoirse, was due a financial bonus for successfully leading Gor Mahia to the Kenyan Premier League title in 2013.
"We hadn't won the league in 18 years and I've still not been paid that bonus for winning the league," he said.
Chemotherapy and radiation treatment has diminished Williamson's hearing in his left ear, but he feels ready for a return to football.
"I knew there was something blocking my nasal cavity and, when the doctor analysed the tumour they took away, they realised it was cancerous," he explained.
"It was a big blow, but I was always positive that I would deal with that, although it was harder than I thought it was going to be.
"When the cancer took hold, I put getting back into football on the back burner. But I think I'm past it all now.
"I'm feeling a lot better, but it's been hard. I'm looking a lot better - I've put on a few more pounds."
Return to Scotland unlikely but always possible
Williamson, who led Kilmarnock to Scottish Cup success in 1997, expects any return to coaching to be outside his native Scotland.
"I don't care where I work really, preferably Africa or Asia, but its not about the money - it's just about working and enjoying football again," he added.
"I don't think I'd come back to Scotland. It would need to be a very good proposal and a good club who's looking to progress and bring through youth players.
"It's very difficult to get back involved in Scotland, especially with younger and older players who are finishing their careers looking to step into management - they deserve an opportunity.
"I've been out of Scottish football for a while and I don't think it's feasible, but you can never say never."