Douglas Luiz: Pep Guardiola 'sad and disappointed' over rejected work permit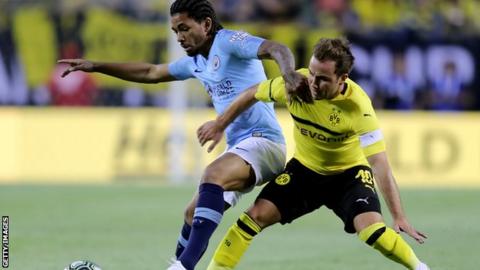 Manchester City boss Pep Guardiola is "sad and disappointed" that Douglas Luiz will not be allowed to play this season after the 20-year-old Brazilian's work permit was rejected.
City reportedly sent the Football Association video footage supporting Luiz's application but to no avail.
The FA made their decision on Thursday, the day the transfer window shut.
"I accept the rules but it's difficult to understand. They don't know him," Guardiola said.
"They have to judge if he has the ability to decide. Me and [Brazil manager] Tite know more about it. They don't know him, not one game or training session," he added.
"We spent £12-£14m because he's a player with a huge capacity to play with us."
Brazil youth international midfielder Luiz, who joined City from Vasco da Gama in July 2017, spent last season on loan at Girona, which is part of the City Football Group.
He made 17 appearances for the Spanish club, but started only one league game.
FA rules on work permits were changed in 2015 "to ensure only the most talented non-EU players meet new criteria".
"I'm so sad and disappointed for Douglas, he could have played, he's shown many good things," Guardiola added.
"We are going to send him on loan again and try to get the work permit.
"I don't understand but we're in England and you have to accept it. I'd have preferred [to have found out] 10 or 15 days ago as we could have decided what we can do."
'I want to stay here until the end'
Guardiola was also asked about reports linking him with the Argentina manager's job.
Ex-Sevilla and Chile boss Jorge Sampaoli left the role in the wake of a disappointing World Cup campaign that saw Argentina knocked out by eventual winners France 4-3 in the last 16 after only just scraping through their group.
On Wednesday, Argentina FA president Claudio Tapia told TyC Sports they had approached Guardiola but any deal was "impossible" because they would have needed a "fat wallet" to cover his salary.
"We were prepared to make an effort. We analysed it, we knew he was expensive, but we did not think so much. We did some research, we tried to talk but it stayed there," he was reported as saying.
"We would have needed to mortgage everything to pay him, and even that might not have been enough."
On Friday, Guardiola denied he had been contacted.
He said: "Nobody contacted me because of course I have a contract and I want to stay here with this project until the end.
"The Argentina national team has to have an Argentine manager and there are many and they are really good, so I am not going to train Argentina.
"I don't know what will happen in the future, but he [Tapia] can't say Pep won't go because of the salary because for that he has to look at me and know everything.
"So no, I'm a little bit disappointed because he cannot say that I cannot count on [sic] because his salary is amazing, to know that he has to know my salary."
Analysis
BBC Sport's Simon Stone
Luiz did not automatically qualify for a work permit, so Manchester City had to apply for an exemption.
However, because Luiz only started one league game on loan with Girona, the FA, who have responsibility for granting exemptions, decided the Brazilian wasn't worth it.
Guardiola has said Luiz will now be loaned out again although, wherever he goes, unless the youngster actually plays on a regular basis, he is not going to get his work permit next year either.