Fifa bans Kalusha Bwalya from all football for two years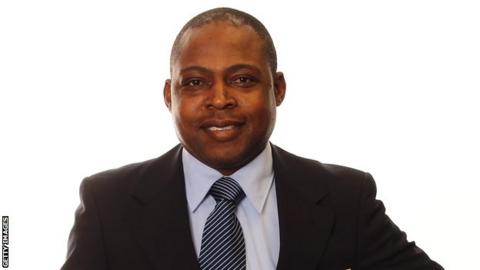 Football's world governing body, Fifa, has banned Zambia's former African Footballer of the Year, Kalusha Bwalya, for two years.
Its decision follows an investigation into his links to banned Qatari official Mohammed Bin Hammam.
It found that Bwalya had accepted a gift violating Fifa's code of ethics.
In a statement Bwalya said that he is "not guilty of any offence" and vowed to fight "tooth and nail" to clear his name.
"I have never done and will never do anything to bring the beautiful game into disrepute," he added.
Fifa's ethics committee said the ban was from "all football-related activities (administrative, sports or any other) at both national and international level".
Bwalya, a former president of the Football Association of Zambia, is a Confederation of African Football (Caf) executive committee member.
Big fine
Fifa said in a statement it had been investigating the 54-year-old since February 2017 "focused principally on benefits that Mr Bwalya had received from Mr Bin Hammam".
Bwalya has also been fined 100,000 Swiss francs ($100,600, £78,900).
In 1988, Bwalya was voted African Player of the Year by Caf and later went on to be coach of the Zambia national team.
Mr Bin Hammam was banned for life from football by Fifa in 2011 for his part in a cash-for-votes scandal.
The Qatari has denied any wrongdoing.