Cardiff City boss Neil Warnock bids to upset the odds in the Premier League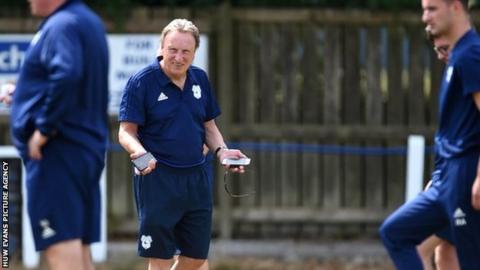 Neil Warnock has been around the block too many times to be shocked by much.
Indeed, it won't have been of any surprise to the Cardiff City manager to find most bookmakers have his Premier League newcomers odds-on favourites to go straight back down.
The veteran boss, who has rarely had a problem with ruffling feathers during his colourful career, knows upsetting the odds and keeping Cardiff up will take some doing.
But is it a given that Cardiff are about to be given a lesson in the difference between battling their way up from the Championship and the class of the top flight?
Or is their against-the-grain approach about to provide the Premier League with a shock to the system?
Going a different way
Under Warnock, Cardiff won't be afraid of sticking to their guns this year, even though they're not used to the Premier League and the Premier League isn't used to a team like them.
They've bucked the recent trend of passing sides playing their way into the Premier League and slotting into the top flight, with their style a stark contrast to that of fellow new boys Wolves and Fulham.
"I know we're not easy on the eye. You knew you'd get criticised at times in certain games, but you can only work with what you've got," Warnock said after winning promotion.
"I'm really proud to have built a team capable of ruffling a few feathers."
Cardiff's uncompromising physicality mixed with work-rate and fast-paced attacks was too much for most even in the Championship.
Set-pieces were, naturally, a speciality and clean sheets were common.
As pointed out by Duncan Alexander of Opta, the top flight won't have seen anything like Cardiff in some time. It worked well enough for Stoke for long enough, and even Burnley. There's going to be a culture shock - but for who?
Former Cardiff striker Nathan Blake thinks the Bluebirds' unique style will benefit them.
"I'm excited, anticipating a hard season, but am a little concerned with the lack of Premier League experience in the signings, but you can't doubt Mr Warnock. There was some last season and we all saw what happened," he said.
On their ability to surprise people because of their close-knit spirit, Blake thinks a lack of transfer activity could be advantageous.
"I think [it can be an] advantage for a core from the previous season to stay in the team, because there are a few in the squad like Kenneth Zohore who more than have the ability to step up to the Premier League," he said.
Lessons learnt
Cardiff are ploughing their own furrow with transfers, too.
Cardiff have spent about £35m - significantly less than their fellow new boys Wolves (£84m) and Fulham (£70m), with their wage bill also likely to be at the bottom of the division.
It's a far cry from their last time in the top flight when £11m deals for players such as Sevilla's Chile midfielder Gary Medel caught the eye.
It didn't work, with the financial fall-out following relegation taking some time to recover from.
The club - and owner Vincent Tan - have learned lessons and have instead quietly assembled players to fit their style, picking up the top performers from the Championship.
There's been an emphasis and investment in younger players too; Josh Murphy and Bobby Reid have arrived for a combined £22m from Norwich and Bristol City respectively and could add an edge to Cardiff's attack.
Before the deadline day arrivals of Victor Camarasa and Harry Arter, only eight of Cardiff's squad had featured in the Premier League before, a total of 231 games to their name - with last year's top scorer Junior Hoilett accounting for 129 of them.
"We haven't spent a lot of money," admitted Warnock earlier this summer. "If you go the other way, bring imports in or pay big wages, it can disrupt the team spirit and we've got such a good one, I don't feel we can do that.
"They might lack Premier League experience, but it also might bring an unpredictability that can give us an edge because I think they won't change the way they play and they'll revel in the situation."
Warnock's point to prove
Warnock's insistence on rewarding the players who earned him a record eighth career promotion appears to be a lesson learned for the 69-year-old.
He has previously spoken of struggling to motivate and manage high-earning Premier League players from his previous spells there, disrupting a dressing room with signings when he took QPR up in 2011.
After lasting a season with Sheffield United and also being shown the door at Palace, it's little wonder the Yorkshireman says showing he can cut it with Cardiff will be his greatest achievement.
What's more, he'll do it with little pressure on his shoulders, admitting he's too old to fear the sack, especially when someone else seeking a promotion would quickly come calling.
"Everyone thinks you've got to spend hundreds of millions to stay up - but I think we can prove people wrong," he said recently.
Someone is in for a shock.