Tony Fernandes: QPR co-chairman says his time at Championship club is 'coming to a close'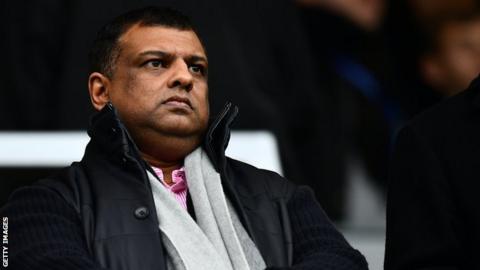 Tony Fernandes has said his time as co-chairman of Championship club QPR is "fast coming to a close".
Fernandes took over at the west London club in 2011 and has been co-chairman with majority shareholder Ruben Gnanalingam since 2015.
But his spell has been controversial and last month saw QPR fined £17m as part of a £42m settlement for breaching Financial Fair Play rules.
Fernandes said on Twitter that he always believed in "being transparent".
The Malaysian businessman, who founded airline AirAsia, has been a regular presence on social media but suggested that would be changing.
He said: "Twitter will be an endless debate. Right or wrong it's how I am. From Crisis in AirAsia I have always believed in being transparent. But my time as chairman is fast coming to a close."
Rangers are controlled by Fernandes and Gnanalingam, with Kamarudin Bin Meranun and the family of Indian steel magnate Lakshmi Mittal also holding stakes.