Jose Enrique: Ex-Liverpool and Newcastle defender tells BBC about brain tumour diagnosis
Last updated on .From the section Football93
Former Liverpool and Newcastle defender Jose Enrique has revealed he feared for his life when he was diagnosed with a brain tumour and asked doctors "am I going to die tomorrow?".
The 32-year-old Spaniard said he was shaking with fear when told in May that he had a "one-in-a-million" type of tumour that would require surgery.
Enrique, who was also told he could lose his sight, said he faced the "biggest challenge of his life".
"It changed my life," he told BBC World Service.
"When you have the word tumour thrown around, it is a really scary moment."
'I have never shaken like that in my life'
The former left-back, now working as an agent, was in London for a meeting with Brighton manager Chris Hughton when light started "bothering" him.
The next day, he developed a headache and started to see double, which is when he realised "something was wrong".
"I remember being in the hospital with my partner Amy and we were shaking. I have never shaken like that in my life," he told BBC's Sportsworld.
"They said I could have had the tumour since I was born, it could be 20 years or 25, they said it can be there for a long time."
Enrique was diagnosed with a chordoma, a rare type of tumour that usually occurs in the bones of the skull base and spine, but his was found behind the eye.
"I lost the vision of my left eye," said Enrique, who made 127 appearances for Newcastle and then 99 for Liverpool following a £6.5m move in August 2011.
"The tumour was sat on the nerve of the left eye, so that's what was the trouble.
"The thought of dying was the most scary thing. I was like, I'm 32 and have always been a healthy person. It was a big shock for me."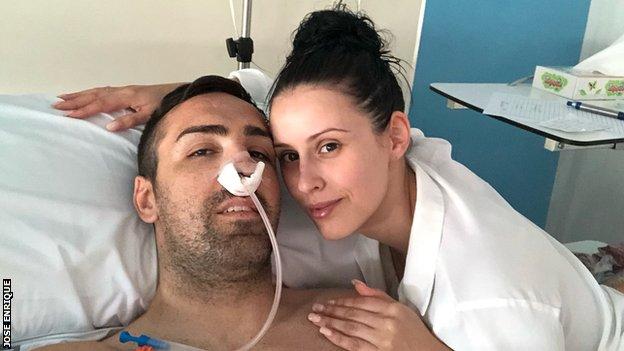 'It is the biggest challenge of my life'
Enrique underwent successful surgery to remove the tumour in Valencia, although the procedure was not without its complications when the tumour was found to be stuck to an artery.
Former Liverpool team-mates Philippe Coutinho, Lucas Leiva, Luis Suarez and Pepe Reina were among people to send messages of thanks to the surgeon.
Enrique will travel to Paris in the autumn to undergo 35 sessions of radiotherapy.
"[After the surgery] was the most difficult time. I spent 24 hours in intensive care and five days in bed after that without moving," he said.
"I had to take tablets to sleep, I couldn't eat for the first few days, I had to go to the toilet in the bed.
"Even at home, my head has been banging and I have to take medication."
Enrique, who finished his playing career with a spell at Real Zaragoza, drew strength from former Newcastle team-mate Jonas Gutierrez, who was diagnosed with testicular cancer in October 2013 and given the all-clear after a year.
"He said to keep going, I think it was more difficult for him because he had chemotherapy," he added.
"I looked at him and how positive he is. I said to him that he is now in a better shape than when he played for Newcastle.
"I think this has made me a better person."
'Footballers live in a bubble'
Enrique revealed he remained positive throughout his diagnosis and subsequent surgery - more so than any of his friends and family - but credits his partner Amy for getting him through it.
"As footballers, we face a lot of pressure from the media and fans, so I think we are prepared to handle situations like this a little bit better," he said.
"We have very privileged lives, but we have our worries as well. When I wake up every day, I thank God I am here for one more day."
Enrique admits he has learned to enjoy every day as though it "could be your last".
"As a footballer, you are in a bubble. At Liverpool, it was unbelievable how they treated the players," he said.
"For 24 hours a day, seven days a week, someone took care of you. But I am human.
"Now I love and appreciate every day I have."