Tony Vance: Guernsey FC boss says 'brave' new style could give club a 'niche' this season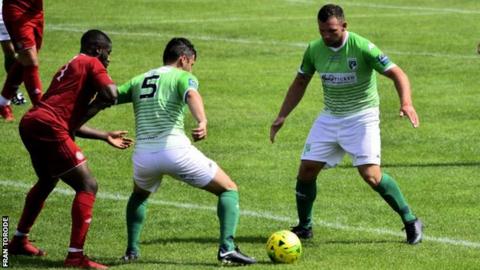 Guernsey FC manager Tony Vance says his side will have a new "brave" style of play when they begin the season.
The Green Lions start the campaign away to Whyteleafe in the newly-formed Isthmian League South East Division.
"It's a little bit away from the norm," Vance said of his new tactics to BBC Radio Guernsey.
"People will call it brave and if you're watching the team you'd think 'why are they doing that?' But there's a reason why we're trying to do it."
"I guarantee we're going to concede goals from it, but I believe that it could give us a little bit of a niche, certainly against certain teams in certain games."
Meanwhile, the club has also welcomed back goalkeeper Callum Stanton.
The 20-year-old has agreed a permanent deal at the club, having been on loan from AFC Bournemouth last season.
He will still live in the UK, as he works as a coach for the Premier League club's academy, but will fly to all home games after a sponsorship deal with an airline was agreed.
"We're very lucky to have Callum Stanton back because he's undoubtedly the best goalkeeper in the league.
"He's going to be busy for us but I think he likes that. He loves playing for us, and we're lucky to have him."