Leeds had to 'sacrifice' £7.7m Ronaldo Vieira - Andrea Radrizzani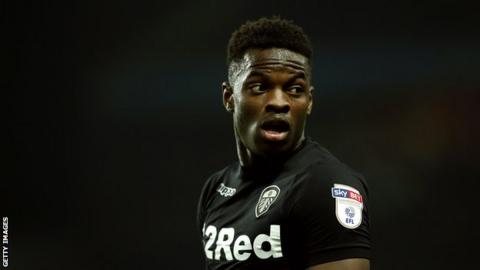 Leeds United owner Andrea Radrizzani says the club had to "sacrifice" midfielder Ronaldo Vieira to help fund investments.
The England under-21 international made a surprise move to Sampdoria this week, despite making 60 league appearances for the Championship club in two years.
The deal is thought to be worth £7.7m, with the potential to rise to £10m.
Radrizzani said manager Marcelo Bielsa was "not happy" but "as a custodian of the club I need to be rational".
Speaking to BBC Sport, Radrizzani, 43, added: "The investment we've made in the past year does not allow us to do anything else to find more resources.
"The sacrifice was very hard for me to do because he's a great player.
"He was one of best players to come from our youth but I cannot put the club in danger in the future.
"We thought it would be a sacrifice we could take, and still maintain the team and invest where we need more.
"For example, we have brought in all the players the manager asked for, and perhaps we can look for one or two more this summer."
As well as a dozen departures, Leeds have spent £13m this summer on striker Patrick Bamford, from Middlesbrough, and former Wolves left-back Barry Douglas.
A handful of loanees have also arrived, including Manchester City's Jack Harrison and Chelsea's Lewis Baker. The Elland Road side are also thought to be keen to bring in a centre-back before the end of the transfer window.
The club's highly regarded new manager Bielsa has suggested Vieira was sold without his approval, but majority shareholder Radrizzani said: "Marcelo understands. Of course he's not happy, he wished to have all his best players - but he understands.
"Marcelo was clear to me and I agree this was not best time to sell Ronaldo - his value next year could have been double this or even higher.
"Unfortunately to sustain a club in this league we need to sell one or two players each year. We've invested a lot and it's not enough to break even, so we had to manage the club and look at the future, not just today.
"I agree with Marcelo who said to me 'Ronaldo is a good player not ready to be in the (starting) line-up'. He needs to grow technically. But I wouldn't be surprised to see him back in the Premier League, and I told him I hope to buy him back in a couple of years when and if we are there."
Radrizzani said he was feeling "excited but at the same time a little bit of fear" about his club's new campaign, which gets under way on Sunday against relegated Stoke City.
Last year Leeds finished 13th, and the Italian says a place in the play-offs is once again the target, although he admitted he did not know whether this would finally be the year the club's long-suffering fans have been waiting for since their relegation from the Premier League 14 years ago.
"I'm sure it will happen. It is up to God, not about me. But I have faith and it will happen," he said.
"Stoke is a difficult start for us - but I prefer it - we have to prove what we are.
"If we're not ready this year then maybe it it will be in the second year.
"We know it's not easy. There are clubs with more resources. Everyone knows the Premier League's parachute payments (for relegated clubs) mean some have much bigger budgets, and it's very difficult to compete, but we are trying to equip ourselves."
Bielsa is Leeds' 11th manager since 2013, but never in that period have they had a head coach with such a pedigree.
The 63-year-old coached his native Argentina at the World Cup, has managed Chile and Athletic Bilbao, and even mentored a young Pep Guardiola.
Now he arrives at Elland Road where expectation is high.
"We chose Marcelo because we felt the need to have a charismatic leader who could change the philosophy from bottom to top," said Radrizzani.
"He will bring in a work ethic as well as professionalism. We were a little bit lost because of all the ups and downs and changes of ownership. This was time to make a big change in terms of culture. We are trying to help him fill any gaps and we're going in the right direction."
Meanwhile, the chairman denied concerns from some fans that the growth of his sports broadcasting network could impact on Leeds' transfer budget.
Having acquired the rights to La Liga and Serie A matches, Radrizzani's Eleven Sports has expanded its portfolio again by beating Sky Sports to the UK and Irish rights to Eredivisie and Chinese Super League games.
"These are totally different budgets," he said. "I need to run Leeds United with ambition - over the last 12 months, the club has been injected with about £45m, but it is still not enough to run this club.
"This league costs quite a lot of money. I also have to be wise and keep going in other businesses we have, so we need to build the project step by step."