EFL: Shrewsbury make history on opening day of late winners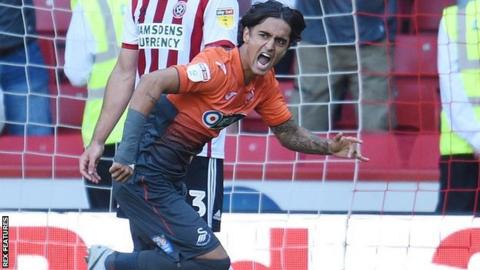 The EFL came back with a bang on Friday, when Frank Lampard claimed a dramatic late victory in his first game as a manager thanks to Tom Lawrence's injury-time winner against Reading.
Fortunately, Saturday picked up where Friday's action left off with even more late winners, red cards and a few goalscoring debuts.
BBC Sport looks back at a few things you may have missed on the first Saturday of the EFL season.
The late, late, late show
Both of the first two matches of the EFL season featured injury-time winners.
However, as dramatic as Derby's late goal at Reading and Sunderland's clincher against Charlton were, they were nothing compared to what happened at the County Ground on Saturday.
Swindon v Macclesfield score in the 90th minute: Swindon 1-2 Macclesfield.
Swindon v Macclesfield score at full-time: Swindon 3-2 Macclesfield.
The Silkmen, back in the EFL for the first time since being relegated in 2012, looked set to mark their return to the top four divisions with three points thanks to a double from Koby Arthur.
Remarkably, the hosts were awarded two penalties in injury time. Michael Doughty tucked both away to secure his first career hat-trick and an incredible win for the Robins.
"The referee wanted to be star of the show at the end but we've let him. I think he's come up with the right decisions but we're just not happy with how it all unfolded," Silkmen boss Mark Yates told BBC Radio 5 live.
"We were letting them have too many chances and we rode our luck. I'm just gutted for everyone that we've not come away with the three points."
'Pass me the ball... mate'
We've all been there. It's 10 minutes into a game of five-a-side and you realise you've got no idea what the new person on your team is called.
You're left with no option. You're just going to have to call them 'mate' and hope nobody realises you weren't listening when they introduced themselves to you 15 minutes ago.
Now, obviously professional football is far more organised than the weekly kickabout you have with your friends but some players on show on Saturday could have been forgiven for not being overly familiar with their team-mates.
In League One, Bradford City and Peterborough both named nine debutants in their opening-day line-ups, while Championship side Wigan included three players who only signed for the club on Friday.
If some of the Posh players didn't know each other too well it certainly didn't show; new signing Matt Godden gave the Posh the lead after just one minute before fellow debutant Mark O'Hara wrapped up the points as they beat Bristol Rovers 2-1.
Mixed emotions for comeback king Edwards
There were 97 goals in scored in the 33 EFL games on Saturday, but none will have meant quite as much as Ryan Edwards' opener for Plymouth at Walsall.
Edwards was making his first appearance in professional football since being diagnosed with testicular cancer in January.
The 24-year-old was given the all-clear in April and said last week that at one point during his treatment just taking his dog for a 20-minute walk left him "exhausted".
Edwards, who scored in his last competitive game in January and his first pre-season game this summer, put the Pilgrims 1-0 up at Walsall before the hosts came back to claim the three points in a 2-1 win.
"At the time it was a great feeling but it stands for nothing now. As far as I'm concerned it doesn't matter and I'm hurting more than anyone in there," Edwards told BBC Radio Devon.
"You saw my emotions when I got back into my position after scoring when I gave the fans a fist pump because they have been with me the whole way. I'm glad they had something to shout about but unfortunately we couldn't keep hold of it.
"I'd have gladly not scored and taken the points."
Yeovil take the gloves off - again
To paraphrase a quote from The Importance of Being Earnest: "To lose one player, may be regarded as a misfortune; to lose two looks like carelessness."
Unfortunately for Yeovil, playing with nine men is becoming something of a habit after they had two men sent off in a game for the third time this year in their 1-0 defeat by Bury.
The Glovers have now had 12 players sent off since the start of last season, unsurprisingly, a figure that puts them top of the EFL pile for red cards in that time.
Worse still, despite having to play the final 23 minutes of the game at Gigg Lane with nine-men after both Tom James and Jordan Green were sent off, Darren Way's men came within one minute of taking a 0-0 draw before substitute Gold Omotayo popped up to break their resistance.
"Lack of discipline cost us the game. I like to call my players men and the ones that stayed on the pitch played like men," boss Way told BBC Somerset.
"I felt we were the stronger team but Tom getting sent off was a turning point."
He added: "The discipline is concerning. I never got sent off in my whole career and discipline levels are very high in the club but I can't do anything about it in the heat of the battle, it's frustrating.
"My players maybe showed too much passion but without passion you can not succeed."
Still, today was an unqualified success compared to their first game of the 2017-18 season when they lost 8-2 at Luton.
Photo of the day