Jose Mourinho: Man Utd boss should smile more - Brian McClair
Last updated on .From the section Man Utd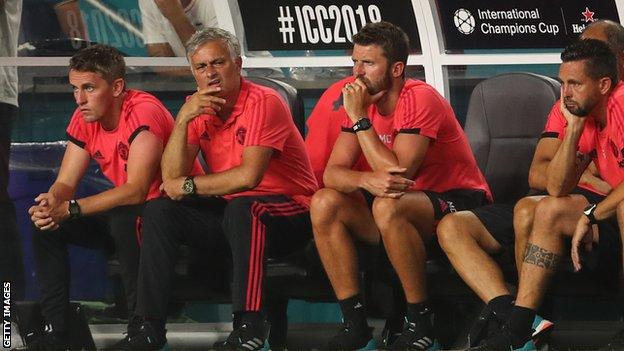 Manchester United manager Jose Mourinho should show he is "enjoying one of the best jobs in world football" and fans would like to see him smile more, says former striker Brian McClair.
Mourinho has seemed unhappy in pre-season - taking aim at players, the club's lack of new signings and the poor showing in the loss to Liverpool.
"There has to be a balance," McClair told BBC World Service Sport.
"You should, at some point, look as though you are enjoying it."
Mourinho left or was sacked from his roles at Real Madrid and twice at Chelsea after the third season and he is entering that period with the Red Devils.
The club won the Europa League and League Cup in his first season, which was followed by a trophyless second, suffering defeat in the FA Cup final against his old club.
During the club's tour of the US, Mourinho said he was hoping for one signing from the list of five options he gave the club "a few months ago".
He also said if he was a United fan he would not have paid to watch their friendly matches and the 4-1 International Champions Cup defeat by rivals Liverpool in Ann Arbor "gave me nothing at all".
The Portuguese boss has a number of World Cup players unavailable, while captain Antonio Valencia's poor condition was because of "too much holiday" and he "doesn't know" when winger Anthony Martial will return after leaving the tour to attend the birth of his second child.
United begin their Premier League campaign at home against Leicester next Friday (kick-off 20:00 BST).
McClair said: "It is fine to be critical, upset and happy - Sir Alex had those moments too, but there were several times where he looked very happy.
"Jose maybe enjoys himself internally but from a football point of view, the Manchester United fans would very much welcome seeing him smiling and laughing at appropriate times.
"From an opposite view, your great rivals have been Liverpool and they have a coach (Jurgen Klopp) who does laugh and smile and look pleased to be there. That must grate as well at times, if you are a United fan."
Jaffa Cakes the recipe for success?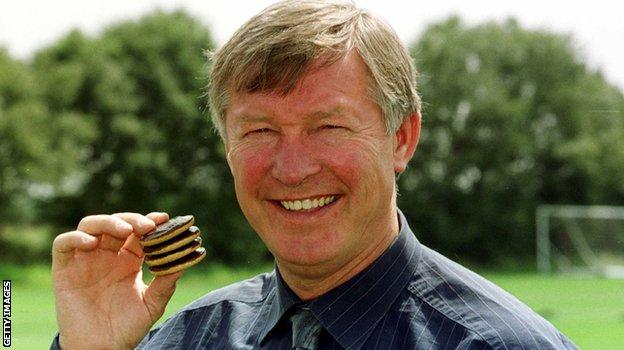 Former Scotland international McClair played for the Old Trafford side between 1987 and 1998, scoring 127 goals in 471 appearances.
He won four Premier League titles, two FA Cups, the European Cup Winners' Cup and European Super Cup during his spell.
McClair revealed the snack which helped the team under manager Sir Alex Ferguson, who was in charge for 26 years.
"I would stop at the corner shop to buy the biscuits to go with the tea and coffee," said McClair. "My choice of biscuits tended to be custard creams, bourbons or chocolate digestives. They got wolfed down every single day.
"Trevor Lee, who was the dietician, noticed we were quite comfortable eating biscuits on a morning but the sugar levels and dietary contents were not as good as they should be.
"He knew that Jaffa Cakes were probably the best thing you could have with some chocolate on it - with the jam in the middle and the sponge. We would eat huge quantities of them before and after training and games.
"I have never touched a Jaffa Cake since but it saved me a couple of quid every day with Trevor buying the Jaffa Cakes."
'Lingard bought a nice car and had a daft paint job'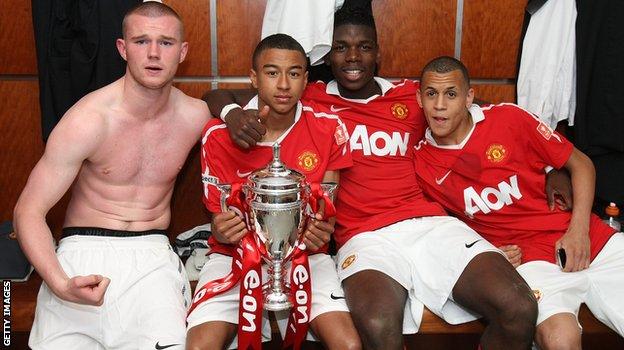 After finishing his career at Motherwell, McClair returned to United in 2001 and became reserve team manager before being appointed director of the youth academy, eventually leaving his role in 2015.
Players such as France World Cup winner Paul Pogba and England international Jesse Lingard progressed into the first team under his tutelage.
McClair said: "There are two parts to the journey, the first part is getting through puberty. You fall in love with football and carry that through but when you reach puberty, all of a sudden your eyes are going in different directions.
"You spend a lot of time looking in the mirror, whether that be deciding if you are pretty enough, squeezing your spots or hoping that female over there might find you attractive. If you get through that and still love it, you have a chance.
"The next part is the distraction of affluence - being in love with the game or being in love with the image of it. Plenty have been turned by the image and lost concentration and drifted away.
"Jesse Lingard was no different. When he could afford to buy a nice car he took that nice car and had a daft paint job on it. My job outside the first team was to reduce the number of distractions as much as possible.
"I would not let them wear coloured boots because if everyone wore black boots, there would be no distractions. Everyone would come out and do their job and work as hard as you can."