Birmingham City: English Football League allows club to sign five more players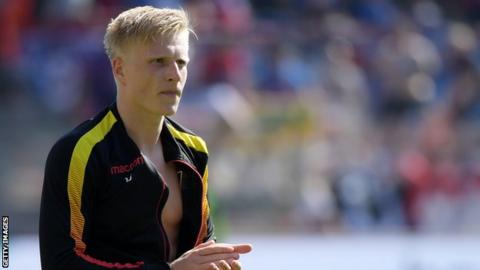 Birmingham City will be allowed to sign five players before the end of the transfer window after having an embargo lifted by the English Football League.
The Championship club's ban was imposed after they recorded losses above the limit of £39m over three seasons.
Blues have been referred to a disciplinary commission, which can punish them if the breach is confirmed.
BBC Sport understands they can not pay any transfer fee or compensation for players until the process is completed.
The English transfer window closes on Thursday, 9 August, but players can join on loan until the end of the month.
Any players that Birmingham sign will be subject to a number of conditions, including a wage cap.
Blues have also been allowed to register Danish left-back Kristian Pedersen, their only signing this summer, ahead of Saturday's opening league match against Norwich.
The EFL criticised the club's decision to make a signing when they were aware they might have breached profitability and sustainability rules.
"The EFL is exceptionally disappointed that the club entered into an employment contract with the player at a time they knew they would be subject to a business plan for 2018-19 if they were in breach," a statement said.
"The decision to allow the club to register Kristian Pedersen was taken after consideration of the legal position as between the club, player and the EFL."
Birmingham have agreed to an EFL "business plan" in an attempt to meet the league's profitability and sustainability rules in future.