Paulo Lopes: The most successful third-choice goalkeeper of all time?
Last updated on .From the section European Football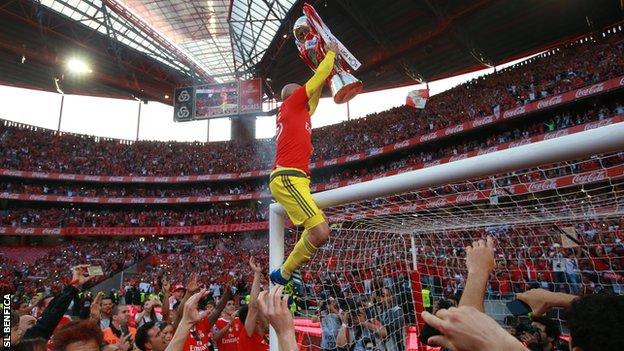 Twelve trophies in only 11 games in more than a decade at Benfica - Paulo Lopes might be the most successful third-choice goalkeeper of all time.
The quirky statistic came to light when the Portuguese retired in July after a 21-year playing career.
"Yes, they are correct," the 40-year-old tells BBC Sport, adding jokingly: "I was born to win."
Robert Green at Chelsea, Richard Wright at Manchester City, Lee Grant at Manchester United and the evergreen Stuart Taylor - all famous third-choice keepers, but none has a trophy haul to rival Lopes.
"I feel happy getting these numbers along my career," says Lopes. "They are part of my achievements and show important and special moments of my career.
"I feel great pride and great satisfaction, because when I look at them [the trophies and medals], I feel it was a work, mostly a team work, but also they demonstrate my achievements as a goalkeeper."
Lopes played for Benfica's youth team, but never made a first-team appearance before he was released in 2002.
He spent the next decade alternating between the top two divisions in Portugal, making more than 200 appearances and helping Trofense and Feirense achieve promotion to Primeira Liga.
Then, aged 34, came the call to rejoin Benfica in 2012.
"I thought it was a joke," says Lopes, recalling a phone call with director of football and Portugal legend Rui Costa.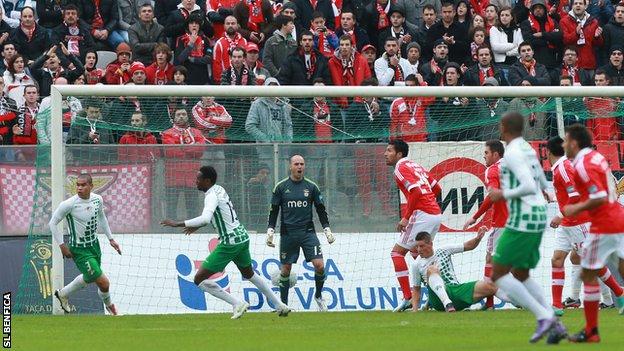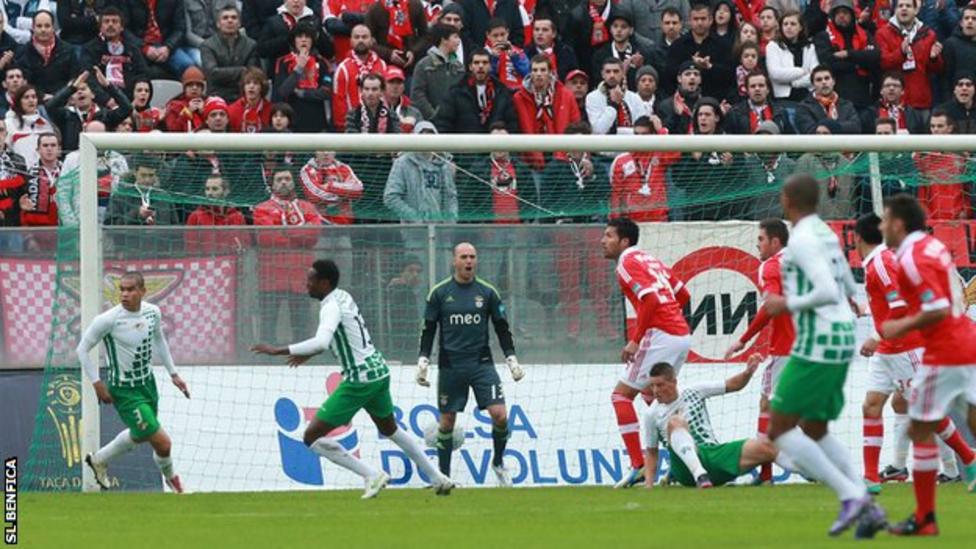 Lopes finally made his senior debut for Benfica on 8 October 2012, the start of his most prolific season with the club when he played five games. That figure dropped over the following seasons, although he did play in the Champions League against Zenit St Petersburg in 2014.
"It was an enormous pleasure to get back to Benfica," says Lopes. "It was the recognition of my work as a goalkeeper throughout my career and of my value as a football professional. There are few players chosen to represent Benfica.
"When I accepted the invitation, of course my will was to play more and it was with that goal that I got back. The best ones play for Benfica and only the best get the longevity to work for a space on the team.
"I've managed to do that for a long time. I felt happy. Those were years of success, being in the first string or not."
Lopes says the decision not to play was out of his hands, but he "always respected the coach's decision".
In a decade at Benfica, he was behind goalkeepers such as Ederson, now at Manchester City, former Brazil and Inter Milan keeper Julio Cesar, and current Atletico Madrid number one Jan Oblak.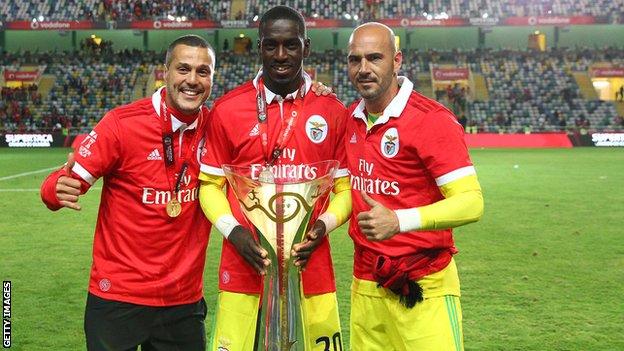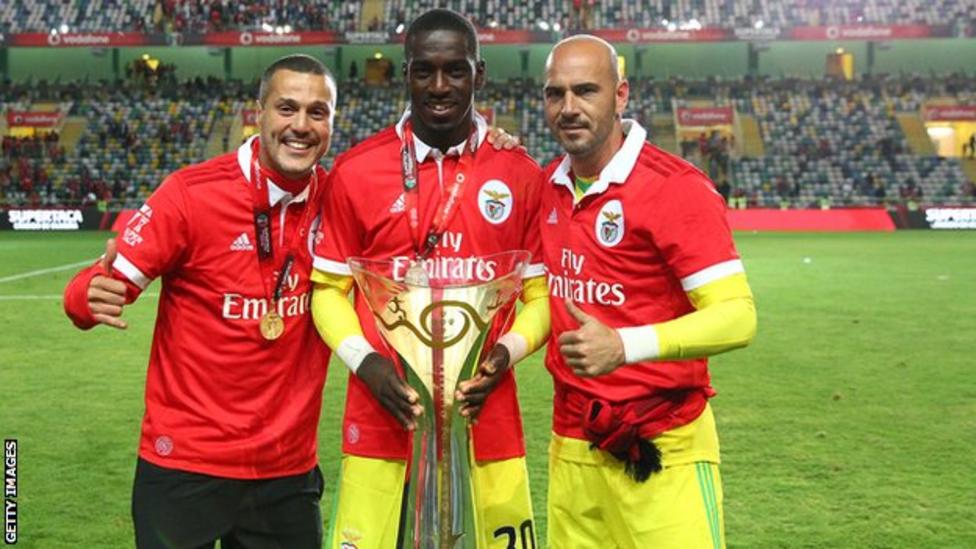 He was part of the squad that won the Primeira Liga four seasons in a row from 2014 to 2017, plus two Portuguese Cups (Taca de Portugal), three League Cups (Taca da Liga) and three Supertaca Candido de Oliveira (Community Shield).
"In my modest opinion, I've done a good job and have always performed my work in the best way," says Lopes.
"It's obvious that I wanted to play more, but it's important to consider that I was in one of the best teams in Europe, with the best players, so the inside competition is very strong."
After retiring, Lopes became goalkeeping coach for Benfica's under-23 side. Manager Jose Henrique, a legendary Benfica keeper, said Lopes is an "idol".
"My connection with Benfica is strong," adds Lopes. "There are few players that spend so much time on the same team and that return after many years.
"It's been essentially arriving as a kid and leaving as an adult. Benfica is where I spent a big part of my life, where I learnt what it meant to be a football player and where I've developed a lot as a person."
Asked to reflect on his career, he says: "With much pride in what I did, what I gave to football and the joy of having fulfilled the dreams I had when I was a kid, when I thought that one day I'd be a football player."