Millwall to submit plans for redevelopment of The Den to be fit for Premier League football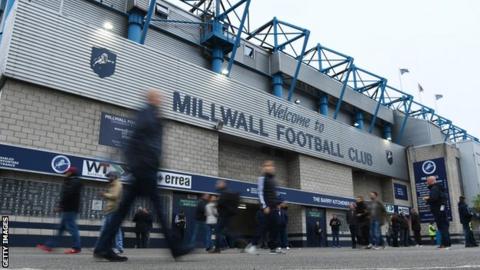 Millwall will propose a plan to redevelop The Den and the area surrounding it following a long-running dispute with the local council.
A compulsory purchase order (CPO) for land around the ground was dropped by Lewisham Council in January 2017.
The Lions have appointed architects to draw up plans to build on that land to house the club's community programme.
The club say they would never be able to be promoted to the Premier League unless they have that space.
"Last season when we got close to the play-offs we had a survey from the Premier League for facilities here. It was scary. It's nowhere near what you require in the Premier League," Millwall chief executive Steve Kavanagh told BBC London.
"We're drawing up plans to see what this would be with the Premier League requirements and how this would cope.
"We're showing that to the council and working to a pre-planning application so that we can clearly define what we need as a club.
"If the council know that and can see that and work with us so that we can deliver that, then we have a long-term future here."
Millwall's home in South Bermondsey is just a couple of miles from London's financial centre and is in a prime site for real estate development.
Lewisham Council owns the freehold of The Den, which is leased to the club, and were planning to redevelop land around it in partnership with property developers Renewal.
However, the CPO plans - which Millwall said may force them to leave Lewisham - were dropped last year after widespread outcry and negative publicity.
"Whilst the CPO has gone, our land still has been conditionally sold, the community scheme can't invest and can't develop," added Kavanagh.
"It (Millwall's community scheme) is doing some fantastic work, it needs to be taken forward, but it can't do that while the sword of Damocles is hanging over the top of it because this could come back.
"Until we have a clear path that can't happen, then things are stuck, so we need to get that clear path to allow us to work with the council to really go forward, and that can be a fantastic future for us all.