Samir Nasri: Ex-Man City midfielder's doping ban extended to 18 months
Last updated on .From the section European Football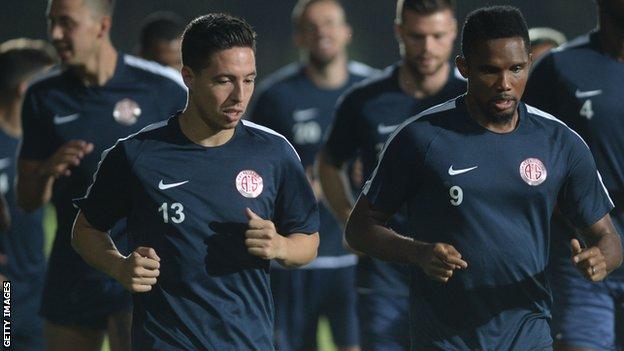 Ex-Manchester City midfielder Samir Nasri has had his doping ban for using a drip treatment at a Los Angeles clinic increased from six to 18 months.
The ban is backdated to 1 July 2017, even though Nasri, 31, has made eight appearances for Turkish side Antalyaspor since then,
He is now a free agent and can return to training with any club in November.
Nasri took the drip treatment while on holiday in 2016, but it contravened World Anti-Doping Agency (Wada) rules leading to a Spanish Anti-Doping investigation.
At the time the ex-France international was on loan from Manchester City to Sevilla.
Wada rules state there is a 50 millilitre infusion limit per six-hour period for active athletes but it was alleged he received 500 millilitres of hydration in the form of sterile water containing micronutrient components.
In February 2017, a request by Sevilla for a retroactive therapeutic use exemption (TUE) for Nasri was refused by Uefa, and its decision was later upheld by the Court of Arbitration for Sport.
On Wednesday, Uefa's ethics and disciplinary inspector argued that ban was insufficient and European football's governing body extended it by 12 months.
Nasri's spell with Antalyaspor lasted only six months after he joined from Manchester City in August 2017.
He played for Arsenal from 2008 to 2011 before moving to City for £25m, going on to win the Premier League twice during his time at Etihad Stadium.
During his loan spell at Sevilla last season he made 30 appearances and scored three goals.