Gareth Southgate: FA keen to extend England manager's contract

By Dan Roan
BBC sports editor
Last updated on .From the section England384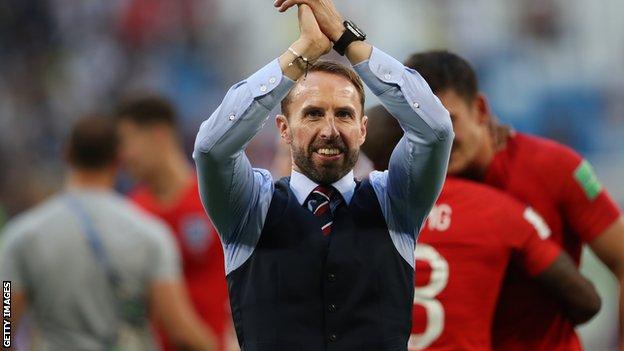 The Football Association wants Gareth Southgate to remain as England manager beyond Euro 2020 but accepts it cannot compete on salary if a Premier League club tries to lure him away.
Having initially come in as a caretaker manager, the 47-year-old was given a four-year contract in November 2016.
"We'd like him to stay beyond 2020," said FA chief executive Martin Glenn.
"I think we'd both like that, but if we talked about it at any length it would then be a contract conversation and he's on holiday now - so we'll talk when he comes back."
Southgate's salary is understood to be £1.8m a year, with performance bonuses taking it closer to the £2.5m his predecessors Sam Allardyce and Roy Hodgson are believed to have earned.
These figures, however, are still considerably less than the £4m a year Fabio Capello received when in the job and a fraction of the £15m a year salaries earned by the likes of Manchester United boss Jose Mourinho and Manchester City counterpart Pep Guardiola in the Premier League.
Southgate has not hidden the fact he would also like to return to club management one day, having been sacked by Middlesbrough in 2009.
Asked if he was concerned that Southgate's success with England will attract lucrative offers from clubs, Glenn said: "I want to pay my staff competitively so they are not a flight risk, but I also recognise we are a sports governing body and we're not a Manchester United.
"We can never compete with the Premier League in terms of pay - everyone knows that.
"At some point, Gareth may choose that he wants to try something different and we'll find someone else."
Glenn's admiration for Southgate is clear, with the chief executive saying he "blossomed" in Russia and referring to him "as the definition of the modern manager we want".
"Gareth is on a journey," he added. "He loved the World Cup and he's built his own belief that we can go further and that motivates him and [assistant manager] Steve Holland.
"One of the most powerful things he said after our defeat by Croatia was we haven't done the job. We want to be a top 4 team, one of the best, so it's unfinished business."