World Cup qualifier: Wales striker Harding wants 'marginal gain' at Rodney Parade
Last updated on .From the section Wales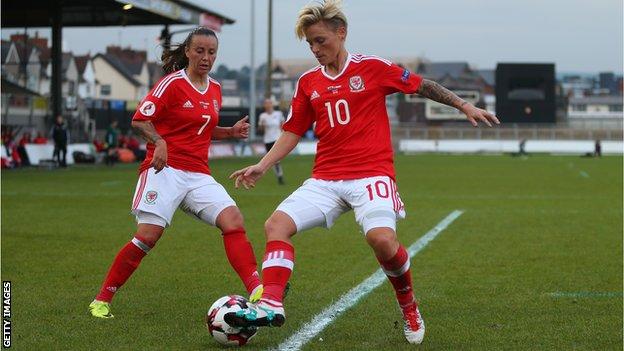 Wales striker Natasha Harding says she hopes Rodney Parade can provide a "marginal gain" when her side host England in a vital World Cup qualifier.
Wales will assure a first World Cup appearance since 1958 if Jayne Ludlow's side win the qualifier on 31 August.
However, there has been some criticism at Wales choosing to stage the match in a stadium with a 5,000 capacity.
"If playing at Rodney Parade gives us a 0.5 or 1% swing in our favour, that's great," Harding told BBC Sport Wales.
"We are coming up against a team who are really, really good, so the minor details could make a really big difference.
"We hope the stadium can be a marginal gain for us, anyone who knows Jayne (Ludlow, head coach) and her backroom staff knows they think about every minute detail."
Wales are currently top of their 2019 World Cup qualifying group, a point ahead of England, though Phil Neville's side have a game in hand.
Only the top side in the group is guaranteed a place in France in June, with the four best group runners-up competing in play-offs.
However, Reading striker Harding, 29, says the pressure is all on England.
"We always knew we could possibly be fighting for play-offs, that was our aim, so maybe that's nearly a box ticked already,"
"All the pressure is on England. There is no pressure on us. No one expected us to get this far and be competing in the last game. We will enjoy it, ride every moment, ride every wave that comes with it."
Harding rejects suggestions from across the border that Wales should have staged the match in a bigger stadium and says Rodney Parade is a suitable venue.
"Some people are caught up on where the game is, but for us they are getting carried away and are not seeing the bigger picture," she said.
"We had a game at the Liberty Stadium [Swansea's home ground, capacity 21,000] and people had the chance to sell that out and we were grateful that just over 3,000 came.
"I think it is about the bigger picture, thinking about the team and not just bums on seats. For us, it is massive, the game is sold out, it is better than what we've ever done before.
"Newport played Leeds in the FA Cup there, so us girls don't see what the big issue is about playing there."