Fifa eWorld Cup Grand Final: More than 20 million competitors, and still growing
Last updated on .From the section European Football72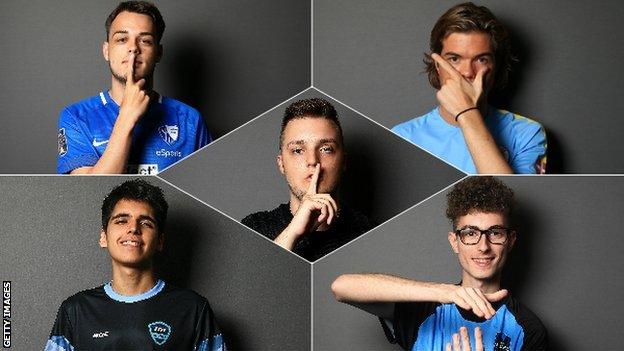 More than 20 million gamers have vied for a spot in this year's Fifa eWorld Cup Grand Final, with esports chiefs believing it has the potential to muscle in on mainstream sports.
A $250,000 (£190,000) prize awaits the winner, with 32 players preparing to compete at London's O2 having come through several stages of qualifying.
Despite being in its infancy, around 30 million viewers have tuned in to witness the Fifa season to date, with the showpiece set to be broadcast around the world.
BBC Sport finds out why the eWorld Cup is proving so popular, how anyone with a games console has a shot at being world champion, and who the favourites to bag the top prize are in 2018.
'Couch to champion' - from 20 million to one
The Fifa eWorld Cup must be one of the most open competitions around. Feasibly, any one of the 20 million players who entered had a chance of winning it.
Qualification began in November, with hopeful gamers entering online looking to qualify for live tournaments. The most successful then progressed to the play-offs, and then fought it out for one of 32 places - 16 on Xbox One and 16 on Playstation 4 - in the eWorld Cup Grand Final, which begins on Thursday and culminates on Saturday.
"It's what we call 'couch to champion'," Todd Sitrin, competitive gaming chief at EA Sports, who make the Fifa series, told BBC Sport. "We see this all the time in Fifa.
"Some of the people who have turned out to be the very best players are some of the ones no-one knew of a few months before.
"You could literally be one of the best players in the world and until you actually start to compete you may not know that."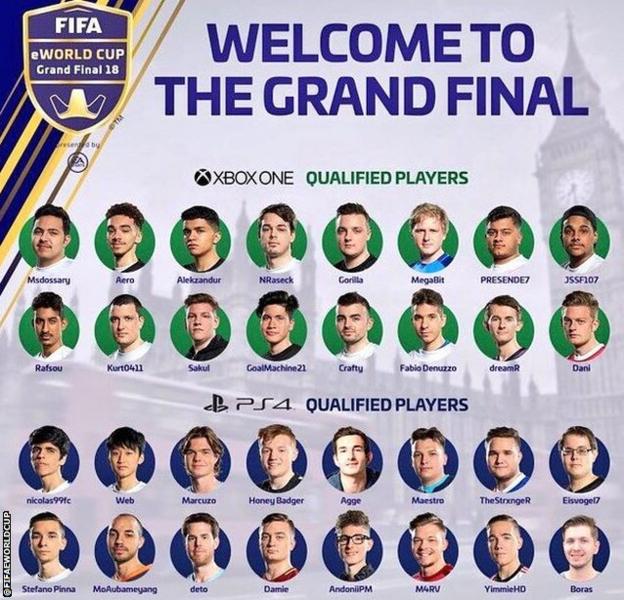 The biggest eWorld Cup yet?
A virtual football World Cup in some form has existed since 2004, but it is only in the past couple of years that both Fifa and EA Sports have worked together on a venture of such magnitude and with such investment.
That has resulted in a huge increase in both players and fans - an 80% increase in average viewers on last year - with organisers convinced this eWorld Cup will be the biggest yet.
"What you have is many things coming together at the same time," said Sitrin.
"First of all, it's the world's most popular sport in football, so you have a huge fanbase of people that are interested in the sport itself.
"You have a gigantic game in Fifa, and when you add up all of its various platforms around the world, there is something approaching 80 million people playing every year.
"Then there is the rise of esports in general, and the rise in investment and the way the community has come around to esports and competitive gaming - it's all fuelling into channelling these gigantic growths that we are seeing."
Sitrin says the accessibility of the Fifa game is the key to its success.
"Fans and people watching already know the teams that are on the field, they already know the rules of the game, they know the players and they have an emotional connection to all of those things," he added.
Coming to a screen near you?
EA has already agreed a deal for another one of its titles, American football game Madden, to be broadcast by Disney and ESPN.
Similar deals with major broadcasters across the globe have been reached for the eWorld Cup, while it will also be available on social media platforms Twitch, YouTube, Twitter, Facebook and Weibo.
But Sitrin believes there is still a huge audience to tap into.
"We are still really just a year-and-a-half into this," he said.
"There's still the situation where most people don't even know these competitions are going on yet and we still have to introduce that to a lot of people.
"All the elements are there for mainstream popularity and we are already starting to see the signs of that."
The same goes for the number of gamers competing. More than 20 million had a go at trying to reach the Grand Final this year, from a pool of around 80 million people who play Fifa.
"We have just started on this path, and if you think of any traditional sport, they have been around for hundreds of years," said Sitrin.
"In that context, we are really in the infancy of what we are doing.
"There is a lot more growth to come and we are going to see more as we move into next year's competition - more investments, more competitions and bigger competitions.
"We have been building momentum around Fifa esports, and that is just going to continue into next year."
So, who is going to win it?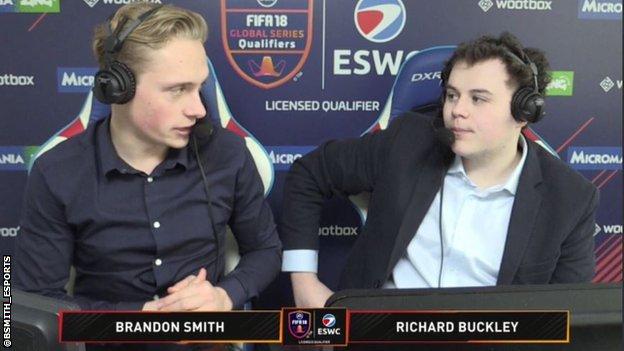 We asked Fifa commentary duo Brandon Smith and Richard Buckley to talk us through their 'ones to watch' for this year's eWorld Cup Grand Final.
Spencer 'Gorilla' Ealing, England (Xbox)
Smith: "He was the champion last year in London and there's a bit of a theme that when it comes to London, there's always an English winner - Chris Bullard won it in 2004, and then Spencer in 2017. He's one of the big favourites, and even if he doesn't get off to the best start he always finishes in the top four at the big events."
Mosaad 'Msdossary' Aldossary, Saudi Arabia (Xbox)
Buckley: "He won the FUT Champions Cup in Manchester and is feared among a lot of players. He can switch to lots of formations and is confident in defence. He is probably one of the Xbox favourites."
Nicolas 'Nicolas99FC' Villalba, Argentina (PlayStation)
Smith: "There are rumours that he's only lost 11 games online at home. He doesn't really practice with other professionals, so he doesn't give away any tactics. He's an absolute machine and shows no emotion. He's the number one seed coming to London."
Marcus 'Marcuzo' Jorgensen, Denmark (PlayStation)
Buckley: "He plays for Manchester City and beat Nicolas99 this year in Barcelona over two legs. He's unbelievable at attacking and will score eight or nine goals a game. But can he do it in the biggest Fifa event ever?"
Niklas 'NRaseck' Raseck & Michael 'MegaBit' Bittner, both Germany (Xbox)
Smith: "There are eight Germans in the Grand Final and they are the most advanced country when it comes to esports with their own Bundesliga and lots of competitions."