Ryan Edwards: Plymouth defender stronger than ever after return from cancer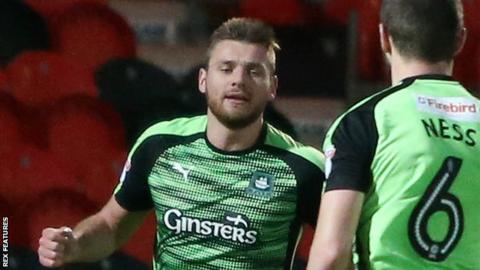 Plymouth defender Ryan Edwards says he feels fitter than ever as he prepares to return to league football after recovering from testicular cancer.
The 24-year-old was diagnosed in January and given the all-clear in April following chemotherapy.
"I've come back in better shape than I thought I would have," he said.
"I worked hard over the summer so I knew I'd come back in good shape, but looking at my results for running and the strength tests I'm over the moon."
Edwards must now wait to see if he is selected for Argyle's League One opener at Walsall on Saturday.
A 15-minute walk left him 'drained'
It is a long way from a man who just a few months ago was so ill at times that he needed help drinking water while undergoing chemotherapy.
"You're told as you're getting treated that it's going to take a toll on your body and give it a good beating and that's what it did," he told BBC South West.
"Getting out of the house for a 15 to 20 minute walk with the dog, was about it - that tired me out.
"I had to go back to the car one day as I was drained and felt I had nothing left, I was exhausted.
"As time goes on you start feeling stronger and stronger and you can start doing a bit more and gradually building stuff up."
'I just want to crack on with football'
He last played a competitive game for the Pilgrims on 13 January, where he scored an equaliser in their 1-1 draw at Doncaster Rovers, but he knew at the time how ill he was.
He also found the net on his return to action in Argyle's first pre-season game against local non-league side Plymouth Parkway.
"I just wanted to get back as quickly as possible, the goal was a bonus really," he told BBC South West.
"It wasn't 'meant to be' - I scored in my last game and my first game - nothing's like that in football. It was a good cross and I won the ball."
And the Liverpudlian says he now just wants to carry on with a career that saw him play more than 100 games for Morecambe after failing to break into Blackburn Rovers' first team.
"I know for a fact that there's going to be stories out on Saturday if I'm selected," he added.
"If it was down to me I'd put it behind me now and completely forget about it and just crack on with football."